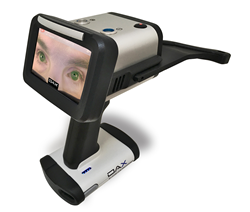 Ocular Data Systems, Inc., a Pasadena, CA-based creator of DAX™ Evidence Recorder to address the epidemic of drug and alcohol impaired driving crashes and fatalities, closed on a new bridge round of funding with the Pasadena Angels.
The amount of the deal was not disclosed.
The investment enables Ocular to further develop DAX.
Led by Marcus O. Filipovich, Chief Executive Officer, and co-founder Dick Studdard, Ocular Data Systems provides DAX, a handheld camera that specially aids law enforcement in manually testing and recording eye movements and responses.
To continue to expand distribution of the camera, the company has signed a distribution deal with Decatur Electronics of Phoenix, Arizona (a Soncell North America Company), a provider of traffic control solutions and a 60-year pioneer in Law Enforcement Speed Measurement. Decatur will distribute DAX throughout the Western, Mid-Atlantic, and South Central United States with an option to eventually expand distribution worldwide.
Ocular also today announced an agreement with Stratasys Direct Manufacturing of Valencia, California, to handle the injection molding, parts procurement and final assembly of the DAX.
To date, 30 police agencies in 20 states and in Canada have deployed DAX to increase the prosecution and conviction rates for alcohol and drug impaired driving. This includes Denver PD, Los Angeles PD, the Colorado State Patrol, and the Tennessee Highway Patrol, NYPD, in addition to the Houston PD DWI Task Force, one of the company's biggest customers.
FinSMEs
10/08/2017