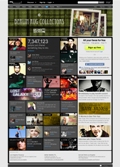 Myspace, a Beverly Hills, CA-based entertainment social network and community for consumers, celebrities and artists, has been acquired by Specific Media from News Corporation.
As part of the deal, News Corporation will take a minority equity stake in Irvine, CA-based Specific Media, which was founded in 1999 by brothers Tim, Chris and Russell Vanderhook.
In addition, artist Justin Timberlake will take a stake in the company. According to a written statement, he will play a significant role in developing the creative direction and strategy for Myspace moving forward.
Commenting on the investment, Timberlake, said: "Art is inspired by people and vice versa, so there's a natural social component to entertainment. I'm excited to help revitalize Myspace by using its social media platform to bring artists and fans together in one community".
Myspace is a social network designed to provide a personalized experience around entertainment and connect people to music, celebrities, TV, movies, and games through multiple platforms, including online, mobile devices, and offline events.
Myspace Music offers a catalogue of freely streamable audio and video content to users and provides major, independent, and unsigned artists with the tools to reach new fans.
FinSMEs
01/07/2011