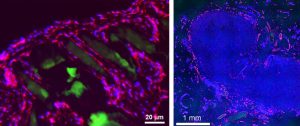 Prellis Biologics, a San Francisco, CA-based human tissue engineering company, raised $8.7M in Series A funding.
The round, which has now raised $10.5m in total, was led by Khosla Ventures, with participation from seed investors True Ventures and Indie Bio (SOSV).
Founded in 2016 by Dr. Melanie Matheu, CEO, Prellis Biologics develops a holographic printing system able to match and replicate human organ and tissue structures for R&D and organ transplantation.
The company's printing technology allows for full human organ systems to be created with cell-compatible biomatrices.
Its R&D team is currently testing 10-20 micron biomaterial interface for cell-cell interactions and nutrient exchange – the first steps in ensuring a functional filtration and gas exchange system, critical building blocks for organ systems such as the lung and kidney.
FinSMEs
30/07/2019