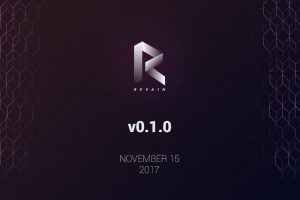 Moscow, Russia – November 15, 2017 – Revain is proud to announce the release of the first test version of the platform designed for accumulating authentic user reviews on projects and startups that have concluded their crowdfunding / ICO stage.
The platform is bringing to life the service that will finally allow businesses to receive detailed and genuine feedback about their projects, while users will get access to other people's experience with ICOs and share their own insights as well. The platform will be aggregating information on token dynamics and major milestones in startup's development.
Impartiality of opinions available on the platform is achieved by the fact that only well-reasoned reviews will be stored. This is achieved by deploying blockchain and IBM Watson AI. Upon completion of testing period and launching the platform at its full capacity, a review hash will be getting stored in blockchain, which stands for its inalterability and no chance of making changes or deletion.
The platform is appealing for both startups that already did ICO, ITO or crowdsale and different user segments. These include crypto-analysts, token holders and potential token buyers. New businesses that went through the ICO will be getting valuable feedback gathered in one place. This resolves the issue of biased coverage as normally the project's website or its social media channels are basically the only source of information for public, while valuable feedback from real users is scattered around on numerous websites, which makes accumulating data and analyzing it pretty challenging.
Crypto-analysts will benefit from being featured on the platform by making analysis of the project, thus getting exposure in crypto-world. Professional analytical ratings will provide users with opportunity to choose the most relevant information. Token holders and platform users will be able to assess a startup project by many criteria, such as: the team, the progress, communication with community, correlation between declared goals and factual achievements. The users will also have the "like" and "dislike" buttons to rate the review either as valuable and informative or useless.
Test version of the platform is available now at: http://dashboard.revain.org
Revain team will be gathering user feedback and comments at: [email protected]
Links:
Website: https://revain.org
Facebook: https://www.facebook.com/revain.org
Twitter: @revain_org
Medium: https://medium.com/revain
Press and Media Inquiries:
[email protected]