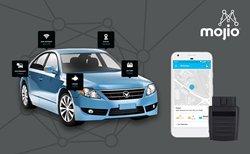 Mojio, a connected car cloud platform company, secured CAD$30M in Series B funding.
The round was led by Kensington Capital ($1.2 Billion in assets under management) with participation from Trend Forward Capital (focused on security technology) and innogy Ventures (focused on distributed energy innovation) and current investors Amazon Alexa Fund, BDC IT Venture Fund, Deutsche Telekom Capital Partners and Relay Ventures.
The company intends to use the funds to accelerate its roll-outs with network operators across the globe, product innovation and patent development, including the advancement of machine learning initiatives.
Founded in 2012, Mojio provides a cloud platform for the deployment of secure connected car apps and services to deliver an improved driving and vehicle ownership experience to subscribers of major network operators, including Bell Canada, Deutsche Telekom, Rogers Communications, T-Mobile and TELUS.
With real-world data gathered from more than 5 billion miles of driving, Mojio provides a big data analytics framework that uses machine learning to generate actionable insights and surface new revenue streams for companies throughout the automotive value chain.
Mojio, which has offices in Vancouver, Palo Alto and Sofia, has already connected over 500,000 vehicles around the world.
Common use cases include:
-Getting notified about engine issues to make informed decisions on service and repairs
-Monitoring car location and status to help with ride coordination and cut down on distractions
-Receiving critical recall notices to ensure remedial action is taken to improve safety
-Locating a stolen vehicle to inform the authorities and have it recovered
-Logging business trips to maximize mileage expensing and tax returns
-Using on-demand roadside assistance to get help fast
FinSMEs
30/11/2017