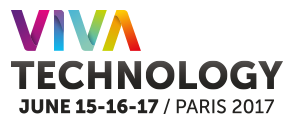 From 15 – 17th June 2017, the city of Paris is hosting Viva Technology 2017, a tech event co-organized by Publicis Groupe and Groupe Les Echos with thousands of emerging startups and global businesses participating.
The second edition of VivaTech: The Rendezvous For Game Changers aims to celebrate innovation, along with tech-lovers, innovators, entrepreneurs and pioneers of the future.
During the event, 100 free, open-innovation challenges for startups held by top business leaders spanning major industries and sectors. Of those registered (more than 5,000 to date), 1,000 startups will be awarded a stand at one of the 20 open-innovation labs, hosted by VivaTech's Platinum Partners (BNP-Paribas, Google, La Poste and Orange) and designed to encourage co-working and open innovation. Young businesses can receive exposure to an array of opportunities, such as partnerships, investments and building relationships with major companies and venture capitalists
VivaTech will bring together more than 500 speakers from around the world to debate and discuss the impact of digital technologies on a diverse range of industry sectors. Speakers include Isabelle Kocher (CEO Engie), Gillian Tans (CEO Booking.com), Yuanquing Yang (Chairman & CEO, Lenovo), Jeff Immelt (Chairman & CEO, GE), David Kenny (Senior Vice President, IBM Watson & IBM Cloud), Eric Schmidt (Executive Chairman, Alphabet Inc), Tim Armstrong (CEO, AOL), Daniel Zhang, (CEO, Alibaba), Bertrand Piccard (Chairman SolarImpulse Foundation), John Collison (Cofounder & president, Stripe),Stéphane Richard (CEO Orange), Jean-Laurent Bonnafé (CEO BNP Paribas), and more.
Robots, drones, 3D printing, virtual and augmented reality and self-driving cars, will be exhibited in the Hall of Tech while tech companies such as Alibaba, Cisco, Ericsson, Facebook, Google, IBM Watson, Orange, SAP, Groupe Bouygues, EDF, JC Decaux, L'Oréal, Unibail Rodemco, Cerevo (Japan), Flytrex (Israel), Icaros (Germany), Qwant (France) and XXII (France) will showcase their latest developments,
In addition, a "Deep-Tech Hackathon" will bring together developers in a 17 hour hacking challenge.
Hundreds of incubators, accelerators and project holders including AfricanAngels, Chinaccelerator, Numa, PlugandPlay, SeedCamp, Tekes, and The Family, will participate.
FinSMEs
28/04/2017