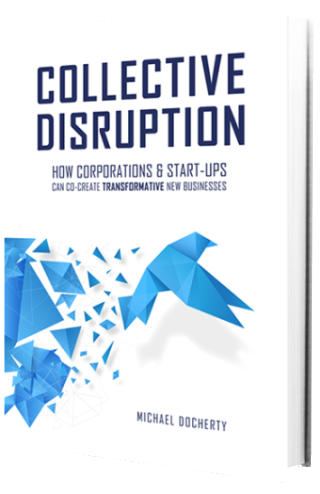 Until now, disruption has been a must only for startup. This paradign is be changed now and pursue innovation should also be the main target of large companies. Working together then can be the main factor for both corporations and startups to succeed in building innovative businesses.
"Collective Disruption – How Corporations and Startups Can Co-Create Transformative New Businesses", a new book by senior corporate executive, entrepreneur, and venture capitalist Michael Docherty, tries to build a bridge between the startup and the corporate world by providing a roadmap and framework for co-creating new businesses.
Large corporations need new sources of growth, but often struggle to embrace entrepreneurial, high-risk opportunities. Startups often excel at using speed and agility to incubate breakthrough ideas, but lack access to brands and distribution for scale.
Large companies and startups can help each other and can collaborate in creating and scaling transformative innovation and new business opportunities.
Dedicated to executives trying to drive growth in a change-resistant organization and entrepreneurs with a big idea and looking for corporate partnerships, the book aims to give information on how to:
– build and leverage an innovation network as a pipeline for new sources of growth
– bring entrepreneurial and lean methods into the corporate context with a balanced approach that works
– discover, define, incubate, and integrate new sources of growth with a new mindset of co-creation, and
– apply new incubation models, including leveraging accelerators and "on-demand" entrepreneurs.
The author
Michael Docherty, a senior corporate executive, entrepreneur, and venture capitalist, is passionate about the intersection of corporate innovation and entrepreneurship for co-creating new businesses and business models. As CEO of Venture2, a consulting and new ventures firm, he works with leading brand companies and startups to commercialize breakthrough new products and businesses. Corporate clients include Unilever, Merck, Cisco, Jarden, and many others. He holds an MBA from Northwestern University's Kellogg Graduate School and a BSME from Drexel University.
Docherty is an international speaker on innovation and corporate venturing and is an active supporter of the entrepreneurial community.
Email: [email protected]
Twitter: @dochertymic
Web: www.venture2.com
The Book
"How Corporations and Startups Can Co-Create Transformative New Businesses" By Michael Docherty
Polarity Press
Hardcover: $21.95
www.collectivedisruption.com
FinSMEs
16/05/2016