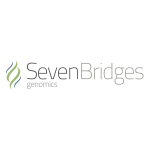 Seven Bridges Genomics UK, Ltd., a London, UK-based provider of a tool to store and analyze genetic information, will receive approximately £1.95m in funding.
A Small Business Research Initiative grant was awarded by the UK Department of Health and Genomics England.
The company intends to use the funds to complete and launch its functional Graph Genome reference and suite of related tools.
Led by Deniz Kural, CEO, Seven Bridges is advancing the Graph Genome, a tool for researchers and clinicians to store and analyze large sets of human genomes. It includes a self-improving algorithm and can completely anonymize a patient's genetic data while retaining vital information for research and interpretation.
The company is also launching a suite of tools that allow researchers to use it. They include a graph aligner, branch genotyper and local assembler, graph database, genome browser, and disease-focused applications.
All these tools will also run on the Seven Bridges Platform, a cloud-based bioinformatics, computation and storage suite.
FinSMEs
11/03/2015