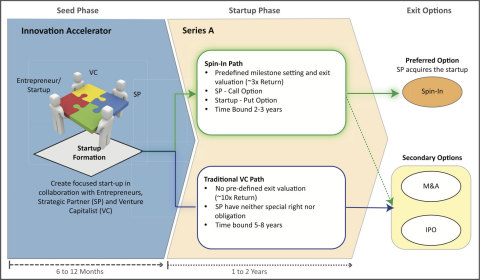 SK Telecom Americas, the business development and venture capital arm of SK Telecom, Korea's largest wireless operator, launched a Sunnyvale, CA-based accelerator to fund and help create IT infrastructure startups.
SKTA Innovation Accelerator operates by matching semiconductor, hardware, management software and energy infrastructure entrepreneurs with strategic partners committed to providing technical and market guidance to rapidly develop a minimum-viable product for the right market segment, providing up to $1m in funding composed of working capital, professional services, development tools and facilities per venture.
At the end of the seed phase, which lasts between 6 and 12 months, the projects that show the most potential will be selected to receive Series A funding and will progress on one of two exit paths:
1. Spin-In: Acquisition by Strategic Partner
2. Venture: Additional funding from traditional capital sources
For more information about the initiative and to learn how to apply, visit: http://sktainnopartners.com/f-a-q/.
FinSMEs
20/02/2014