SPONSORED POST

Time is a precious resource. No doubts about it. And Setster could have understood it better than others creating a product that aims to facilitate the management of appointment scheduling (a time consuming activity for any business) to generate new customers and try to grow revenues.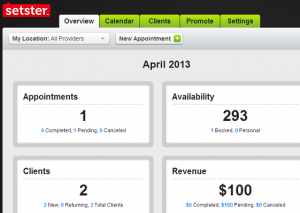 For example, think about daily deal sites, marketing firms, Spas, and other service providers. The company's cutting-edge online scheduling solution allows them to control their time by managing their calendar remotely and being alerted of changes to appointments from any internet-connected device. A product that they can embed on their websites, blogs and emails to allow current and potential customers to book thier time (and pay for services), 24/7/365.
A comprehensive solution that features tools to sync activity to existing calendars (meaning that an update to Setster calendar instantly updates users' other calendars), define appointment availability, set appointment confirmations, cancellation, and rescheduling notifications. Users can also also access to dashboard analytics, with multiple language support, PayPal and Freshbooks integration, custom fields and widgets, timezone conversion, API and developer support available.
The Los Angeles, California, based-company offers different plans with a 15-day trial:
– Personal: $16/mo
– Team: $24/mo
– Business: $32/mo
– Corporate: $80/mo
– Enterprise: $240/mo
Customers include Indochino, Rent The Runway, Kohler, Blinds.com, BYU, Zendesk, and Bonobos, among other small, medium and large businesses.
FinSMEs
08/07/2013
Syndicated Sponsors powered by InfluAds