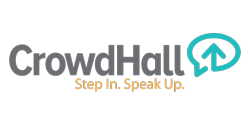 According to reports, CrowdHall, LLC, a Las Vegas-based platform that allows users to build public discourse with people and organizations in an organized way, raised $700k in funding.
TechCrunch said (read here) backers included Las Vegas Tech Fund, The Brandery, Vine Street Ventures, Calvin Soh, Greg Kidd, Social Starts, John Tan, Northwestern Capital, as well as friends and family.
Co-founded by Austin Rory Hackett (CEO), Jordan Menzel (COO), and Nick Wientge (CTO), CrowdHall offers a free online social platform that allows users to open crowd-sourced town halls to manage the difficulties of public discourses with people and organizations by organizing ideas and thoughts, articulate questions (prioritized by the crowd), and receive answers in a democratic way.
Open Q&As are related to politics and government, technology, fitness, brands and products, travel, educations, etc.
FinSMEs
12/05/2013