VendScreen, Inc., a Portland, OR-based developer of a smart device for new and existing vending machines, has closed a $15.4m funding round.
Backers include 3×5 Special Opportunity Fund (3×5) and Merrickhanna Ventures (MKV).
The company intends to use the capital to build its operating infrastructure.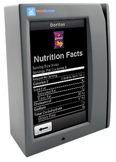 Founded by CEO Paresh Patel and CTO Glenn Butler, two longtime veterans of the vending machine industry, VendScreen is the inventor of the VendScreen Revolution™ smart device, which is designed to bring the existing vending machines into the digital age with features such as cashless acceptance, nutrition information, advertising and promotions, and data to improve routing efficiency, inventory control, and merchandising. The device, which uses an Android operating system, combines a 4.3 inch touchscreen, credit card swipe, Near Field Communications (NFC), and connections to DEX and MDB supported by all recent vending machines. It is self-contained and installs on the front of vending machines and its patent pending solution integrates with back end systems like MEI and Streamware. The company also has an OEM version named VendScreen Realize™, which uses a larger format screen, replacing the keypad in existing machines and integrating fully with the machine's operations.
FinSMEs
09/12/2012