FastCall411, a Hollywood, CA-based intelligent sales automation and analytics company built on the Force.com platform, has raised its second round of funding from 500 Startups, the fund created by Dave McClure.
Entrepreneur and angel investor Gerry Campbell also participating.
Led by CEO Richard Rosen, FastCall411 incorporates patent-pending intelligence to qualify sales leads quickly. FastCall411 integrates into existing sales funnels (i.e., website forms, AdWords) and triggers a call to each potential lead through Salesforce.com, scoring it based on any previous inbound or outbound call to that number. The leads, once ranked, are distributed to the client's sales organization. The software also contains a self-learning system to recognize phone records that have changed numbers, been disconnected or frequently do not answer a phone.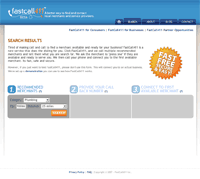 FastCall411, which uses Twilio's cloud-based telecom API integrated into Salesforce.com, was one of three Twilio Fund alumni firms to present at the Twilio Conference on Thursday http://www.twilio.com/conference/, where they also announced their second round of financing from
Twilio Fund is a microfund also created by 500 Startups.
FinSMEs
23/09/2011