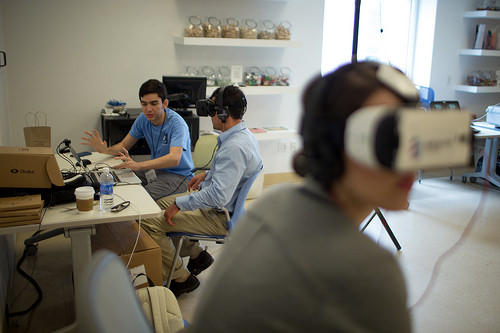 The lottery has long been a way of generating huge sums of money, with many people benefiting in the process. Of course, the person who selects the right numbers and wins the jackpot is the main focus, but lotteries also raise a lot of money for charities. In addition to this, businesses that get involved with either selling tickets or offering lottery betting can stand to benefit from the wealth of prize draws all over the world. Now, as lotteries prepare to embrace the future of virtual reality (VR), there could be exciting new opportunities for FinTech companies who wish to profit.
Lotteries have evolved with technology and, although players can still buy a ticket from the local store, many now choose to purchase through apps and websites. In the past, it was normally only possible to play the draws in your country of residence. This has changed as well, as lottery betting sites now allow players to stake on lottery draws all over the world without having to buy a physical ticket. These advances spell good things for the years to come, as lotteries have proved that they are able to move with the times and attract modern audiences.
There are plenty of ideas about what a futuristic lottery could entail and there is a high chance that virtual reality will be involved. By 2021, the combined virtual and augmented reality market is projected to be worth $215 billion. To say it was worth $6.1 billion in 2016, this is a serious increase and it suggests that many different sectors will soon face VR makeovers. In terms of the lottery, in the future, there may be some kind of virtual environment in which players can place their lottery bets and watch the draws. This would change the way people play and also involve a social element that could attract more players. But how can people in the FinTech industry take advantage of this potential future?
The most exciting prospect is the new VR payment opportunities that could come about in the next few years.
According to Intersog
, MasterCard already has a partnership with VR designer Wearality and a prototype in existence. It enables players to buy things in a VR golf game without having to leave the virtual environment. If you begin to think about incorporating cryptocurrencies, there are yet more possibilities.
With the dramatic rise of bitcoin, it's clear that many people believe that the e-currency will one day be the sole method of paying for things on the internet. If people are going to be meeting in VR situations like lottery draws, it would make sense for them all to be paying in the same currency, regardless of their country of residence. Therefore, it may be wise for businesses involved with cryptocurrencies to strike up partnerships with lottery sites sooner, rather than later.
With VR still in its infancy, nobody is certain about payment methods when the whole world adopts the technology. But it is fair to assume that, for the futuristic platform, people will be using advanced methods of payment.