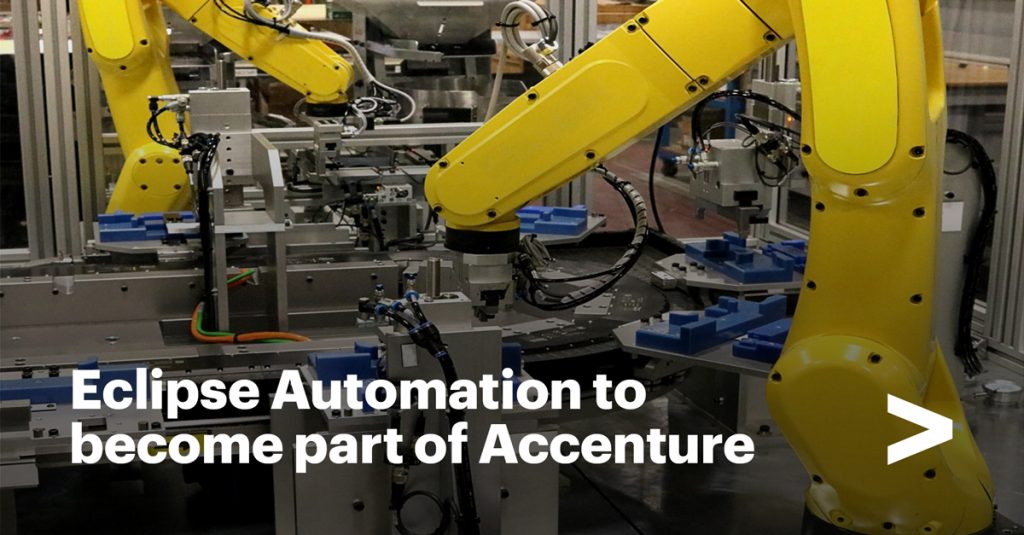 Accenture (NYSE: ACN) is to acquire Eclipse Automation, a provider of customized manufacturing automation and robotics solutions headquartered in Cambridge, Ontario, Canada.
The amount of the deal was not disclosed.
The acquisition will allow Accenture to offer automated production lines that leverage the cloud, data and artificial intelligence (AI), making factories and plants smarter and thus, more productive, sustainable and safe. Financial terms were not disclosed. Eclipse's approximately 800 professionals – led by Steve Mai, CEO – will join Accenture's digital engineering and manufacturing service, Industry X.
Founded in 2001, Eclipse Automation creates automated manufacturing systems to produce sophisticated products for life sciences, industrial equipment, automotive, energy and consumer goods companies. Its technologists and engineers design, build, integrate and service advanced automation solutions for producing components and devices such as electric vehicle batteries and wearable blood-glucose monitors. The solutions include automation control systems, production machines and robots, with critical customized tooling manufactured in-house.
The company has offices in Canada, the US, Hungary, Germany, Switzerland and Malaysia.
FinSMEs
23/07/2022