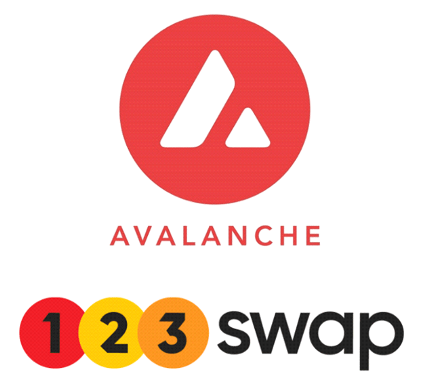 The 123swap platform having a cross-chain architecture, uniquely decentralized and non-custodial, has announced a new integration with Avalanche.
The leaders of both industries agreed upon a mission to accelerate the developmental process of cross-chain apps, which are genuinely decentralized and will fuel the future of DeFi.
The 123swap has completed its seed round, and it is in the private sale phase, and in the world of DeFi, it is the fastest-growing cross-chain DeFi. The innovatory cross-chain framework, which is non-custodial and decentralized, is now in this collaboration has been incorporated with Avalanche's unrivaled ecosystem of apps and projects. Avalanche can utilize the power given by cross-chain technology to develop new value and use the cases for its clients.
Next Step for 123swap
123swap is the rapidly growing cross-chain DeFi, which adds 1-2 new blockchains every week. Now, 123swap is adding Avalanche, Polygon, Binance Smart Chain, Fantom, and Ethereum. Soon, the 123swap platform will add more blockchains, Harmony one, Moonriver, Heco Eco chain, Gate chain, Shiden Network, Solana, Cardano, KCC chain, and Okex chain.
Working of 123swap
123swap is an ecosystem of decentralized finance which allows its users a perfect peer-to-peer swapping of crypto assets. The 123swap platform works with the help of smart contracts, making swapping quick and automated. Decentralized finance management can quickly be promoted by using smart contracts. The interface of 123platform is user-friendly and simple; throughout the process of transactions, a constant rate is maintained, no issues of security, cross-chain one window, and the platform provides a broad range of crypto assets. Several blockchain projects are supported easily just because of the cross-chain framework of 123swap; the platform includes Avalanche (AVAX), Polygon (MATIC), Binance Smart Chain (BNB), and Ethereum (ETH) blockchains.
What is Avalanche (AVAX):
In the blockchain industry Avalanche platform is the quickest smart contract in terms of time to finality. Avalanche ensures its activities, and for any proof of stake protocol, it has several validators. Avalanche is eco-friendly, cheapest, and lightning-quick. With the launch of Avalanche, any application which enabled with smart contracts can easily surpass its competitors. If any doubts, try our Avalanche application today.
Since the introduction of Avalanche mainnet in 2020, it has been working on building its own ecosystem of DeFi and DApps. TrueUSD and Sushi swap, which are ethereum based projects, have and been combined into Avalanche. Moreover, the Avalanche platform is always striving to improve integration between Ethereum and its ecosystem, which can be done by establishing bridges.
What 123swap Finance?
The main goal of the 123swap platform is to increase the payment and purchase using different cryptocurrencies across the financial industry and, after that, establish the next-generation financial ecosystem. This platform is DeFi in nature and allows the genuine swapping of crypto assets between peers. Without the help of any intermediary source, investment management choices and income choices are provided to users. Exchanges provided by the 123swap platform are convenient, easy, and transparent.
Make your money work for you by utilizing only one DEFI 123swap finance DEX AMM to swap, hold, send, receive, earn, and invest crypto and NFT across several crypto chains.
The platform aims to reduce slippage and make the trading of crypto assets as simple as possible. The platform also allows its clients across any chain to trade with each other on a peer-to-peer basis directly.
Visit: https://123swap.finance/
Twitter — https://twitter.com/123swapfinance
Telegram — https://t.me/my123swap_chat
Reddit — https://www.reddit.com/r/123swap/
Discord — https://discord.gg/arNbvrPgZx