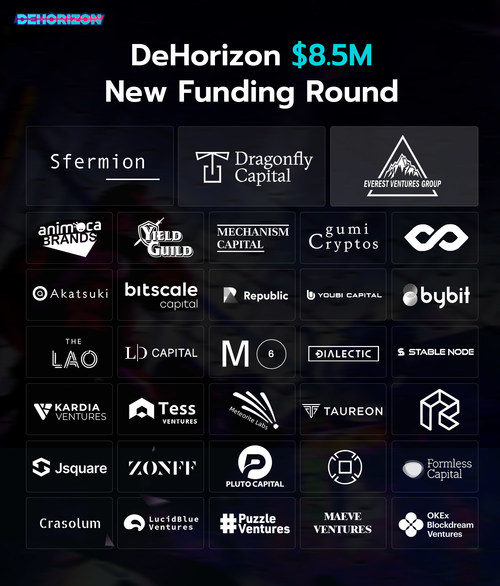 San Francisco, CA-based DeHorizon Foundation, the team behind DeHorizon, completed an $8.5 million Pre-A funding.
The round was led by Sfermion, Dragonfly Capital and Everest Ventures Group with participation from Animoca Brands, Yield Guild Games, Mechanism Capital, Gumi Cryptos Capital, Infinity Venture Crypto, Akatsuki Inc, BitScale, Republic Realm, Youbi Capital, Bybit, The Lao, LD Capital, Momentum 6, Dialectic, Stable Node, Kardia Ventures, Tess Ventures, Meteorite Labs, Taureon, Ruby Capital, Jsquare, Zonff Partners, Pluto Capital, WaYi, Formless Capital, Crasolum, Lucid Blue Ventures, Puzzle Ventures, Maeve Ventures, Blockdream Ventures, Bo Feng, Darren Lau, Santigo Santos, Miss Bitcoin, and MASA.
The new funding will help them to accelerate DeVerse's development and grow the team.
DeHorizon Foundation is dedicated to creating DeHorizon a community-powered Game Metaverse, making "Play for fun and to Earn" come into reality. Complying with the principle of empowering all players to control their own assets, privacy information, and power of governance, DeHorizon Metaverse will be managed by the decentralized autonomous community, which is DAO.
DeVerse is the first blockchain-based MMO/RPG on DeHorizon, a barbarous version of high fantasy action-adventure game. In DeVerse, players will explore the open world of epic battles, minting NFT monsters, mining resources, embarking on heroic quests, taming wild creatures, and much more.
Recently, DeHorizon launched the first-ever interoperable, editable and evolvable ERC-721 NFT "DeMeta Pass ID"(DeMeta) to solve the problem of NFTs' connection and further development. Building up the interopability of NFTs may be an important catalyst to contribute Metaverse forward to open, connection networks. Within less than 30 minutes, their first batch of ERC-721 DeMeta NFT were immediately claimed out. An advancing NFT experiment has been witnessed, freely open to everyone.
FinSMEs
12/10/2021