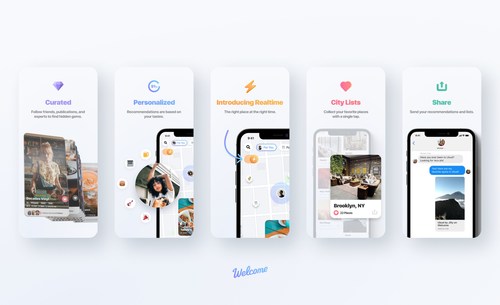 Welcome, a Los Angeles, CA-based personalized city guide powered by friends and experts, and made smart by a real-time AI, launched out of Beta with $3.5M in seed funding.
The round, which brought total funding to $4.2M, was led by Accel with participation from Lakestar Ventures.
Founded by multi-time founder and entrepreneur Matthew Rosenberg, along with Peter Gerard, Mark Armendariz, and Mark Essel, who previously co-founded mobile video editing platform, Cameo, which was acquired by Vimeo, Welcome provides an app that utilizes real time search, a proprietary context-driven discovery mode that considers dozens of data points to make the most relevant and personalized recommendations in the exact moment the user opens the app.
The interface combines the utility of a maps/location app with a social experience that allows users to see smart, custom suggestions alongside access to friends' recommendations and lists. Welcome also aggregates relevant articles and reviews from travel and lifestyle sites and respected brands in real time. Its algorithms prioritize local, owner-operated businesses that capture the unique culture and spirit of a city, street, or neighborhood. Its search even takes into account factors such as weather, time of day, user preferences and habits, and local holidays.
Welcome has utilized data from over 50,000 Beta users in more than 350 global cities. There are over 6.5 million places in Welcome's database, and growing, with more than 300,000 curated recommendations from around the world. Welcome's "Street Teams" create custom video content to enhance the app experience and are unique to the app. Street Teams are currently located in New York City, Austin, and Miami and will soon be expanding to San Francisco, Los Angeles, Chicago, Seattle, and Nashville. International growth is also on the near-term roadmap.
The free app is currently available on iOS.
FinSMEs
24/09/2021