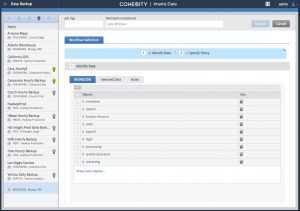 Cohesity, a San Jose, Calif.-based provider of hyperconverged secondary storage, acquired Imanis Data, Inc., a provider of enterprise backup and data management solutions for distributed databases.
The amount of the deal was not disclosed. As part of the acquisition, the Imanis Data team is joining Cohesity to support and develop new capabilities for Cohesity.
By combining capabilities from both companies, Cohesity will be able to offer a software-defined data management solution for NoSQL and Hadoop data residing on-premises or in the public cloud.
Through this acquisition, Cohesity customers will enjoy support to back up and instantly recover Hadoop and NoSQL workloads and supporting databases, including MongoDB. This adds to Cohesity's comprehensive capabilities for backup and instant recovery of traditional databases such as Oracle and SQL, along with virtual, cloud, and physical workloads.
Additionally, Imanis Data customers will have the option to access Cohesity's modern data management capabilities that make backup data productive and offer simplicity for archiving, disaster recovery, ransomware prevention, testing and development, and more – all within a single solution.
Today, Imanis Data serves numerous Fortune 500 companies across a wide array of verticals including financial services, insurance, retail, and transportation to protect their big data workloads. The company's solutions are architected for petabyte scale, are data-aware, and are powered by machine learning to reduce cost, minimize risk, and enable insight across large data sets.
Imanis Data is already available as an application in the Cohesity MarketPlace, enabling customers to protect all of their Hadoop and NoSQL distributed databases, including MongoDB, Cassandra, Cloudera, CouchbaseDB, and Hbase, on one platform.
Led by Mohit Aron, founder and CEO, Cohesity provides enterprises that use new distributed databases with a single, scale-out platform that spans on-premises and cloud infrastructure to consolidate both traditional and modern workloads. It consolidates secondary storage silos onto a hyperconverged, web-scale data platform that spans both private and public clouds.
FinSMEs
09/05/2019