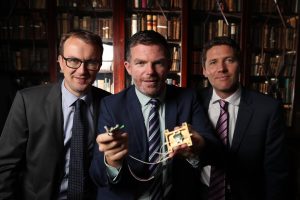 Pilot Photonics, a Dublin City University (DCU) spin-out that develops comb source laser technology, raised nearly €1M in funding.
Kernel Capital, through The Bank of Ireland Kernel Capital Funds made the investment in syndication with Dublin BIC.
The company, which has recently been awarded a significant contract by the European Space Agency (ESA) to develop laser communications systems for use in a range of advanced communications satellite systems, will use the funds to expand the team and accelerate their international growth plans.
Formed in 2011 and led by Frank Smyth, CEO, Pilot Photonics has developed a low- cost, size, weight and power consuming optical comb source (OCS), whose technology is based on 10+ years of research and development undertaken at DCU, Trinity College Dublin and Tyndall National Institute, and has multiple applications across the communications, energy, safety, aerospace and defense sectors globally.
Optical comb sources are a type of laser that emit on multiple wavelengths, or colours of light simultaneously.
FinSMEs
08/02/2018