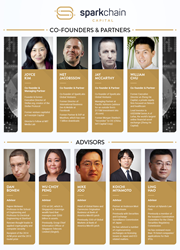 SparkLabs Group, a network of accelerators and venture capital funds, has launched a new $100m early-stage fund.
Led by Joyce Kim, founder and former Executive Director at Stellar.org and venture capitalist at Freestyle Capital, SparkChain Capital focuses on innovations in blockchain and cryptocurrencies, leveraging SparkLabs Group's extensive network in Asia, with a small targeted holding of actual cryptocurrencies, which the fund will not actively trade. SparkChain Capital is also planning for an ICO later this year.
Through its accelerator in Seoul, SparkLabs already has investments in Blocko, an enterprise blockchain company in South Korea, and Sentbe, a bitcoin remittance company in South Korea (2015). Through SparkLabs Global (global seed fund), the team invested in Cryex, an early blockchain compatible FX trading, clearing and settlement system based in Stockholm (2014), and other related startups.
Joyce Kim will be working with:
Net Jacobsson, Co-founder of SparkLabs Global and former Director of International Business Development at Facebook;
William Chu, former Executive Director at Zheng He Capital where he led their $500 milllion Series A round into Lufax;
Jay McCarthy, Co-founder of SparkLabs Global and Managing Partner at Pacific Advisers where he advised on deals such as an institution investor's $175 million investment into JD.com.
The fund is supported by an advisory board including experts from the cryptocurrency and finance sectors, including:
Dan Boneh (Professor of Engineering at Stanford University and renown thought leader in applied cryptography),
Wu Choy Peng (CTO at GIC, Singapore's sovereign fund that manages over $350 billion in assets),
Mike Joo (Head of Global Rates and Currencies Origination Business at Bank of America Merrill Lynch),
Koichi Miyamoto (Partner at Anderson Mori and Tomotsune), and
Ling Hao (Partner at Hylands Law Firm). GIC, Bank of America Merrill Lynch and other firms associated with their advisors did not invest into SparkChain Capital.
FinSMEs
19/10/2017