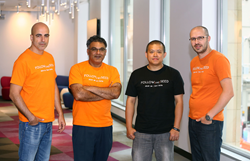 Follow[the]Seed, a Sydney, Australia-based data-driven venture capital firm, has launched its $100m global fund to invest in second-stage funding to startups.
With a global presence across the Tel-Aviv, Beijing, Silicon Valley and Sydney, Follow[the]Seed will cater to the market of startups seeking to raise between $0.5 and $2m and will focus on Israeli and US based startups.
The fund will be open for investments in early 2017.
Co-founded by Silicon Valley based investor and entrepreneur Ajoy Mallik, in partnership with investors Andrey Shirben, Curt Shi & Eliav Alaluf, Follow[the]Seed has already finished raising its Australian fund and made some global investments in companies like WorkSpot and ClassCover.
The firm's data driven approach leverages an algorithm* which assesses the potential of consumer internet ventures at a very early stage by identifying habit-forming products and services, such as (but not limited to) gaming, messaging, and e-commerces, creating "irrational" patterns of behavior leading to obsessive, compulsive or addictive use.
Over the next five years, Follow[the]Seed will make between 100-120 investments – with a combined total of $200 million – across four global funds, and will focus on innovative consumer technology ventures and enterprise solutions.
The firm spans across Silicon Valley (led by Ajoy Mallik), Tel-Aviv (led by Eliav Alaluf), Sydney (led by Andrey Shirben) and Beijing (led by Curt Shi).
* Developers can download the RavingFans® SDK directly from the Follow[the]Seed website (http://followtheseed.vc/). After it has been implemented it into an app or software package, it will take between three and six weeks to have sufficient data to determine the app's RavingFans® score.
FinSMEs
03/02/2017