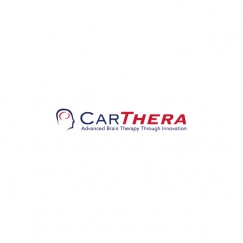 CarThera, a Paris, France-based developer of medical devices to treat brain disorders, received a grant of €5.7m ($6.4m).
The funding was awarded under the call for proposals 'Structuring R&D Projects for Competitiveness' from France's 'Investments for the Future Program', led by the General Investment Commission and run by Bpifrance.
The company will use the funds to advance the DOME project, whose aim is to support the development and market launch of implantable ultrasound devices that temporarily open the blood-brain barrier (BBB) in a controlled manner, in order to increase the efficacy of treatments for patients with brain tumors and neurodegenerative diseases.
The grant will finance a Phase 2b/3 study in glioblastoma, a large-scale clinical trial that will involve around 200 patients at centers in Europe and the United States. It will also fund a number of exploratory studies, including one on Alzheimer's disease, building on the findings from the Phase 1/2a study that paved the way for a broader array of clinical indications.
Founded in 2010 by Professor Alexandre Carpentier and led by Frederic Sottilini, CEO, CarThera is advancing the SonoCloud device, which temporarily opens the BBB, allowing for greater penetration of drug therapies to the brain. It is capable of emitting ultrasound to temporarily increase the permeability of the blood vessels in the brain, with the aim of increasing the delivery of therapeutic molecules.
Created by Professor Alexandre Carpentier and developed in collaboration with the Laboratory of Therapeutic Applications of Ultrasound (Laboratoire Thérapie et Applications Ultrasonores, LabTAU) at INSERM, SonoCloud is an ultrasound implant inserted into the skull after a regular surgical procedure and activated prior to each round of chemotherapy. Two minutes of low intensity ultrasound emission opens the blood brain barrier for six hours and increases by five to seven times the concentration of therapeutic molecules delivered into the brain, with good tolerance.
CarThera is based at the Brain and Spine Institute (Institut du Cerveau et de la Moelle épinière, ICM) in Paris, France, and has laboratories at the Bioparc Laënnec business incubator in Lyon, France.
FinSMEs
12/10/2016