Virgin Media and Techstars announced the ten digital startups selected to be part of the London-based mentor-driven accelerator.
Following the application process opened in November 2015, the 10 businesses – coming from every part of the planet – will participated in "Virgin Media Accelerator powered by Techstars", a 13-week mentorship and guidance program with the backing of Virgin Media Business, its parent company, Liberty Global and Techstars.
The accelerator program, which begins at the end of March, will be housed in a newly refurbished space in Aldgate East, London, ends with a Demo Day, where the companies will pitch to investors.
Funding will be provided by Liberty Global while business advice, to help teams develop products and services, will be given by a global network of more than 7,000 founders, mentors, investors and corporate partners. Among the others, mentors include Sir Richard Branson; Tom Mockridge, CEO of Virgin Media; Peter Kelly, MD of Virgin Media Business; Bruce Dines, Vice President at Liberty Global Ventures and other professionals from technology companies such as Facebook, Twitter, Stripe and Twilio.
At start, the businesses will visit Silicon Valley next week to visit Google, Facebook and Cable Labs as well as CEOs from the Techstars portfolio. The startups will then board a Virgin America flight to Denver where Sir Richard Branson will meet with the businesses after landing. On the flight, Sir Richard will take part in a live-streamed discussion on the "future of entrepreneurship" – which will be broadcast via LinkedIn from 35,000 feet.
While in Denver, the startups will spend time at Techstars' HQ and also visit the offices of Liberty Global, before returning to London.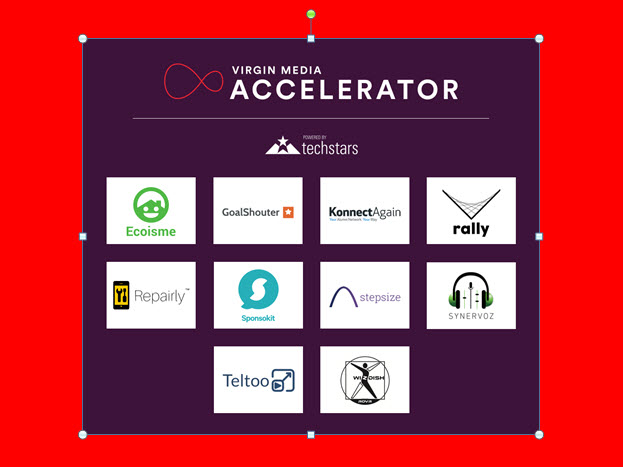 The ten startups joining the accelerator are:
– Ecoisme, a Polish home energy monitoring solution
– GoalShouter, an Italian platform that connects supporters and football clubs of any size
– KonnectAgain, an Irish platform for organizations to keep engaged and up to date with ex-employees to ensure they never lose touch
– Synervoz, a Canadian developer of always-on voice communications software
– Rally Networks, a US charging network that allows developers and enterprises to drive mobile app downloads and ad engagements
– Repairly, a UK based platform that connects people with local engineers to fix their electricals on-demand
– Sponsokit, a German platform where companies learn how to collaborate with social media creators
– Stepsize, a UK-based software development platform.
– TelToo, a UK-based P2P CDN for video distribution.
– Wizdish, a UK-based exercise platform, designed for Virtual Reality, called the ROVR.
HOW THE PROGRAM WORKS
Each company has the option to receive up to $120k (approximately £78k) of funding in exchange for an equity stake and convertible loan note.
On entering the program, Liberty Global Ventures and Techstars will acquire a 6% equity stake in each of the 10 selected startups in exchange for an initial $20k (approximately £13k) investment.
Each company will also have the option to take an additional $100k (approximately £65k) convertible loan note backed by Liberty Global Ventures and Techstars, for up to an additional 4% equity stake.
If, after the program is complete, a startup is not satisfied with the overall value of what it has received, Liberty Global Ventures and Techstars will give them back part, or all, of the 6% equity stake they initially exchanged.
During the 13-weeks, the team members will have access to a range of support facilities, including executive assistants, personal trainers and nutritionists.
FinSMEs
10/03/2016