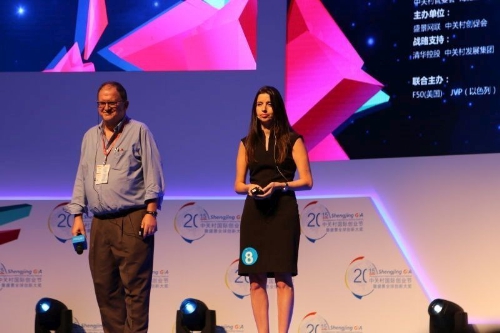 An Israeli startup took the first place at Shengjing Global Innovation Awards 2015.
The winner was DiaCardio, which developed software that changes the way echocardiograms are decoded. Led by Hila Goldman-Aslan and Arnon Toussia-Cohen,  DiaCardio uses proprietary algorithms which decode the main parameters of the heart's functioning in an accurate and automated manner. The software integrates with all eco-cardiograph machines and has received FDA approval and CE marking.
The final was held in Beijing with an audience of over 1,000 people while the competition took place in four geographical locations over a period of more than eight months. It featured 21 startups from China (10), the US (5), Israel (3), Europe and Latin America (3), which competed for $1.5m in cash prizes. In addition to cash, the startups were given the chance to present their technological solutions to investors, as well as to leading technology groups from China and around the world, including Menlo Ventures.
The top 5 startups shared $1m in cash prizes, each receiving $200k. The startups which came in 6th to 10th place each received $100,000 in cash.
The Global Innovation Awards was led by Shengjing, China's prominent management consulting firm, and Jerusalem Venture Partners (JVP), in collaboration with EMC, Deutsche Telekom, PwC, Yissum Research Development Company of the Hebrew University of Jerusalem, IDC Executive Education and law firm Herzog Fox & Neeman (HFN).
FinSMEs
28/08/2015