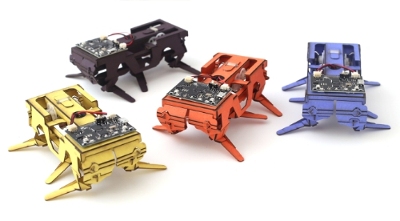 Dash Robotics, a Sunnyvale, Calif.-based maker of hand-held robots, secured $1.4m in seed funding.
The round was led by IronFire Capital, which will also help Dash with manufacturing, distribution and design services.
The company plans to use the funds to begin its commercial launch into the consumer market this year, and initiate a pilot program for educators.
Led by Nick Kohut, chief executive officer, Dash Robotics develops Dash, an easy-to-build, hand-held, bio-inspired robot. Controlled with a smartphone, Dash has six insect-like legs, can run and climb on a variety of surfaces. The robots under development for launch in the second half of 2015 allow users to use both a mobile app and physical accessories to create and modify their own character, with personality and varying levels of physical attributes such as speed, agility, protection, and power.
They are shipped as a 2D kit consisting of a lightweight and durable composite of micro-thin plastic and fabric.
For educators, the company plans to initiate a pilot program to supply a classroom with multiple kits combined with science, programming and robotics curriculum designed for the middle school and high school levels.
FinSMEs
24/04/2015