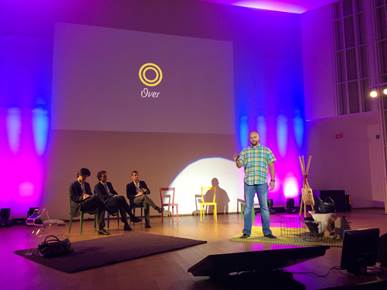 South African social photography app Over won the award at U-Start Conference Milan, which took place last week in Milan.
The startup secured final stage funding, plus a coveted place at U-Start's International Investor Road Show beating 19 global contenders from South America, Russia, Africa and Europe who participated at the live pitch competition.
Led by Aaron Marshall, CEO, Over provides an IOS app that allows users to add artistic text and artwork to user- generated photos. It has 28 carefully selected fonts that cover major stylistic categories such as fun, professional, artistic and hand-drawn and all the standard features for editing text; resize, align and reposition the text and even crop and tint the photo.
It is integrated with all the major social networks.
People are using Over to accomplish a myriad creative projects such as making their Instagram feed more interesting, sharing recipes, sending inspirational quotes, captioning pictures of children, celebrating new babies, announcing weddings, wishing friends a happy birthday, creating ads to sell products on social networks, running contests on Instagram and even creating beautiful printable artwork.
In addition to Over, four regional winners from Europe, Russia, South America and a second finalist from Africa were announced as follow:
– Italist – An online Italian high-end fashion retailer, chosen as Europe's winner
– Linguademia – Specialists in encouraging a new approach to foreign language learning through gaming, selected as the best from Russia
– LoveMondays – An online platform for anonymous employee reviews of businesses, revealed as the top start-up in South America
– wiGroup – Pioneers in point-of-sale, integrated mobile transactions, chosen as the second African winner
The conference, which took place in Milan, on May, 13-14, 2014, attracted more than 730 delegates, 25% of which were international investors, 40% entrepreneurs plus a body of high-level corporates and VC representatives.
It included panel and roundtable discussions, expert led country profiles, and key-note speeches – as well as the live pitch competition itself. Speakers included Lars Buch, Co-Founder of Startupbootcamp, Ash Fontana, Co-founder of AngelList, Simone Sole, CEO of Ad4ventures and Didac Lee, an angel investor in the New Technology Area.
Led by Stefano Guidotti, CEO, U-Start is a global boutique advisory firm offering services targeted at facilitating the matching and cross-border investment between international investors (Angels, VC funds, family offices, corporate offices and wealth management institutions mostly based in Europe) and early stage companies, globally. The firm also offers an innovative online platform, serving as the entry point to a suite of advisory services, facilitating the investment partnership and scaling of businesses into international markets.
FinSMEs
22/05/2014