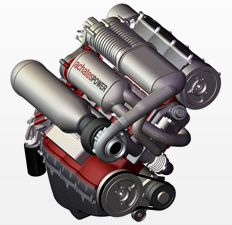 Achates Power, Inc., a San Diego, Calif.-based developer of internal combustion engines that increase fuel efficiency and reduce greenhouse gas emissions, raised $35.2m in Series C financing.
Backers included existing investors Sequoia Capital Partners, RockPort Capital Partners, Madrone Capital Partners, InterWest Partners and Triangle Peak Partners.
The company intends to use the funds to accelerate product development and commercialization efforts.
Founded in 2004 by serial entrepreneur and physicist Dr. James Lemke, the company is led by David Johnson, CEO. It has just formed an Advisory Board whose members include:
– Dr. Walter Bryzik – DeVlieg chairman and professor of mechanical engineering at Wayne State University, retired chief scientist of TARDEC—responsible for all aspects of ground vehicle technology—and the 2004 winner of the Distinguished Presidential Rank Award
– Daniel Hancock – Retired vice president, global powertrain engineering, who spent more than four decades at General Motors Co. overseeing all powertrain technologies, as well as the 2014 Society of Automotive Engineers (SAE International) presidential nominee
– Bruno Linsolas – Retired senior vice president of purchasing at Volvo Powertrain, former chairman of Volvo Group purchasing and former executive vice president of purchasing at Mack Trucks
– Dr. Karl Viktor Schaller – Retired head of heavy trucks, drive train, axles and transmissions as well as a former board member of MAN Truck & Bus AG
– Dr. S.M. Shahed – Former vice president and corporate fellow of advanced technology at Honeywell Turbo Technologies, executive director of advanced technology at Cummins, Inc., director of engine research at Southwest Research Institute and 2002 SAE president
FinSMEs
10/10/2013