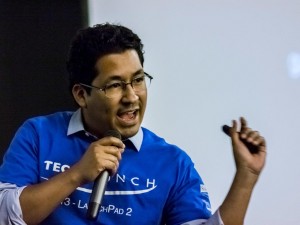 TechLaunch, the New Jersey's technology accelerator, launched its 2013 Class at an event on Campus of Montclair State University.
The 16-week LaunchPad 2 program, which begins on May 20, will host the following startups:
– 30 Second Showcase, a mobile platform for Freelancers and Creatives to show off their work quickly (to make an introduction, get noticed, and get hired).
– BeautyStat, a tool for beauty product consumers to find, research and purchase favorite products.
– Relationship Analytics, a solution to discover the most valuable business relationships among customers and prospects using a Relationship Manager CRM. Graphic visualizations show users where to focus their time, based on the automated analysis of massive data sets.
– Caktus, a smart bottle and accompanying mobile application for athletes, patients and people looking to improve their lifestyle through proper hydration to track and optimize fluid intake throughout the day.
– SeekChange, a developer of mobile applications for people to break bad habits and improve mental & emotional well-being via an adaptive coaching engine, which will guide them and track progress.
– Hazarai, which unites geeks from around the globe with a collectables marketplace and events portal.

– Private.ly, which delivers a platform for communicating sensitive information and keeping it private. It aims to be an essential tool for journalists, businesses and any individual looking to protect sensitive information from unintentional leaks.
– ShareWatt, a mobile-to-mobile charging technology that enables users to take energy from other devices without cords or plugs for on-the-go battery power in a pinch.
Led by Founder & CEO Mario M. Casabona, TechLaunch provides companies with early seed-stage funding, mentorship, services and exposure to qualified investors.
The accelerator, which was formed in collaboration with the NJ Economic Development Authority (EDA), Montclair State University, Casabona Ventures LLC, culminates with a Demo Day (taking place on September 19, 2013).
FinSMEs
16/05/2013