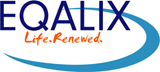 Eqalix, a Reston, VA-based regenerative medicine development company, received a $50k grant from the Nanotechnology Institute in Philadelphia Pennsylvania.
The grant comes from its Match for Sponsored Research Program, which adds to the $125k Sponsored Research Agreement executed between Eqalix and Temple University.
The company intends to use the proceeds to advance the development of of a novel plant-protein based nano-fibrous scaffold to treat wounds as well as applications in aesthetic dermatology.
This project was financed by a grant from the Commonwealth of Pennsylvania, Department of Community and Economic Development via funding to the Ben Franklin Technology Partners of Southeastern PA and the Nanotechnology Institute.
Led by Joseph P. Connell, Chairman and CEO, Eqalix provides novel nano-materials for the repair and regeneration of diseased, traumatized and aging tissues. Its technologies are intended to be applied in multiple commercial and therapeutic applications in the Regenerative Medicine space via exclusive commercial licensing from University of Pennsylvania, Drexel University and Children's Hospital of Philadelphia.
FinSMEs
26/03/2013