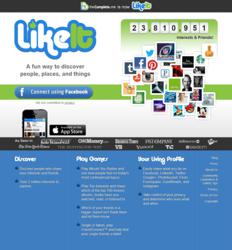 theComplete.me Inc., a San Francisco, CA-based provider of a service to discover people, places, and things via social graph interests and social games, raised $500K in financing from Western Technology Investment.
Led by Brian Bowman, Founder and CEO and Shashikant Joshi, CTO, theComplete.me has relaunched as LikeIt.com, which enables social people discovery, allowing users to connect to others who are talking about the things they like (music, movies, books, hobbies, and sports) and share them across Instagram, Twitter, LinkedIn, Google+, Photobucket, Flickr, Foursquare, and Goodreads.
Investors in the company also include Intel Capital, PlentyOfFish, CrunchFund, Russ Siegleman, Ben T. Smith IV, Social Starts, and Spark Unlimited.
FinSMEs
18/01/2013