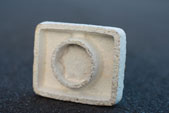 Ecovative Design, LLC, a Green Island, NY-based producer of home-compostable replacements for conventional petrochemical foams using mycelium as a self-assembling glue, has received an equity investment of undisclosed amount.
Investors include 3M (through its 3M New Ventures business), Rensselaer Polytechnic Institute, and DOEN Foundation.
The company intends to use the funding to scale its manufacturing operations and accelerate the development of its grown polymeric materials.
Founded in 2007 by Eben Bayer (CEO) and Gavin McIntyre (Chief Scientist), Ecovative produces high-performance products that serve as environmentally responsible alternatives to traditional foam packaging, insulation, and other plastic-based materials. The company operates a pilot production facility in upstate New York, and plans to expand to new regional manufacturing facilities in the United States.
The company has constituted a new Board of Directors that includes its founders and: Jerry L. Weinstein, former President and CEO of foam plastics producer UC Industries Inc., Richard B. Kelson, former COO, CFO, and General Counsel of metals manufacturer Alcoa Inc., and Charles B. Deull, Executive Vice President with Clark Transfer.
FinSMEs
24/05/2011