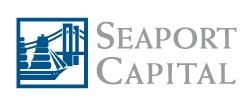 NYC-based private equity firm Seaport Capital Partners has closed its fifth fund, at $230m.
Seaport Capital Partners V's investor base consists of institutional investors, family offices and endowments, and high net worth individuals, as well as current and former portfolio company management teams and owners of prior portfolio companies.
Fund V will adhere to Seaport's investment approach, focusing on lower middle-market investment opportunities in the communications, business and information services, and media sectors.
Founded in 1997 and òed by Bill Luby, Jim Collis, Scott McCormack and Bob Tamashunas, the fund will make equity commitments of between $10m and $25m in companies with $3m to $15 million of EBITDA. It will pursue primarily control-oriented investments and seek to partner with talented founders and management teams to help grow businesses organically and through acquisition.
Fund V has called more than $67m to date and has made investments in three platform companies:
– Quatris Health, a provider of software and services to small and medium-sized physician practices;
– i3 Broadband, a fiber-to-the-home provider operating in Peoria and Champaign-Urbana, IL; and
– Keg Logistics, a leasing and logistics company servicing the craft beer industry.
It has aso deployed an additional $33m of co-investment capital across the Fund V investments.
FinSMEs
22/08/2017