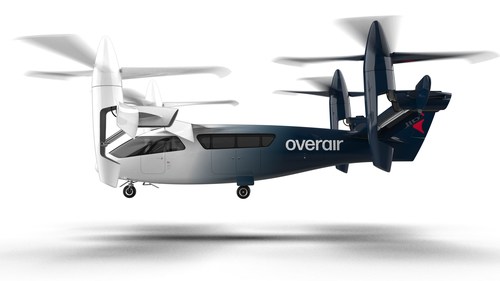 Overair, a Santa Ana, CA-based electric vertical takeoff and landing vehicle (eVTOL) company, raised $145M in funding.
The round was led by Hanwha Systems and Hanwha Aerospace.
The company intends to use the funds to fly its all-electric experimental prototype in the second half of 2023.

Led by CEO Ben Tigner, Overair is an advanced air mobility startup that, spun out of Karem Aircraft in 2020, announced the design of its vehicle, Butterfly, in 2021. Butterfly is an electric vertical takeoff and landing (eVTOL) aircraft with six seats designed to take off and land vertically. Specifically, its Optimum Speed Propulsion (OSP) uses four large propellers, which spin slowly when hovering and even slower when cruising, and draw only a fraction of the available motor power, giving Butterfly extra payload capacity and power margins to operate safely in challenging environmental conditions. Additionally, the slow-turning props produce extraordinarily little sound, which will allow Butterfly to operate in high-density areas with noise sensitive communities.
As the company continues to work toward FAA certification, Overair is also working with NASA and Urban Movement Labs in Los Angeles to develop urban air mobility (UAM) routing and infrastructure. 
FinSMEs
14/06/2022