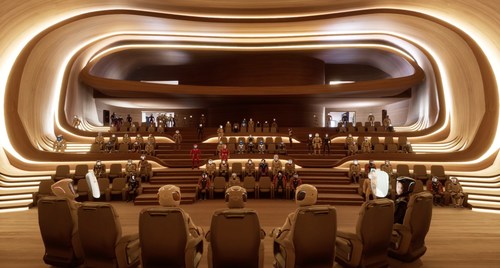 Mytaverse, a Miami, Florida-based platform empowering enterprises in a virtual shared metaverse, raised $7.6m in Seed funding.
The round was led by Blumberg Capital with participation from Baselayer Ventures, Correlation Ventures, Accelerator Ventures, and follow-on investor Alberto Peisach. In conjunction with the funding, David Blumberg, founder and Managing Partner of Blumberg Capital, is joining Mytaverse's Board of Directors, as is John Paul Milciunas from Baselayer Ventures.
Founded in 2020 by Kenneth Landau and Jaime Lopez, Mytaverse is a platform which enables business people to meet in immersive, true-to-life 3D worlds. While the initial launch of the cloud-based platform focused on meeting rooms, conferences, training simulations, interactive large-scale events, and exhibition spaces, the company is building for new multi-dimensional and cross-platform use cases across brand engagement, NFT galleries, entertainment, human resources, and coworking, in a more sustainable and cost-effective manner. Officially launched in 2021, Mytaverse has already delivered business metaverse solutions for major brands such as PepsiCo, Zaha Hadid Architects, Dassault Aviation, and packaging manufacturer Tekni-Plex.
The new funding will accelerate product development, expand sales and technology teams, and further deepen interactions with brands and support strategic partnerships. In particular, it will enable the launch of new technology, including an automated platform giving enterprises the tools they need to build and manage their own spaces, 3D assets, and experiences in Mytaverse. On the product side, continued improvements will soon allow users to create increasingly accurate and look-alike digital versions of themselves, further adding to the sense of being in a true-to-life metaphysical space. Users will gain a more refined sense of freedom, permitting them to do what they want, when they want, and from anywhere.
FinSMEs
18/04/2022