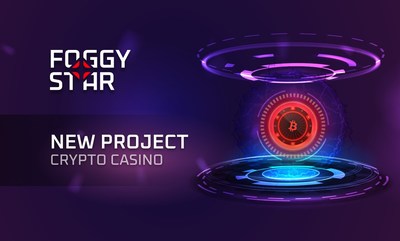 FoggyStar.com, a Nicosia, Cyprus-based crypto casino brand, raised $5m in funding.
Backers included Canadian and Japanese investors.
The company intends to use the funds for brand development and the design of its own token, that will be used to create innovative products for the iGaming industry.
FoggyStar has launched the crypto casino at the beginning of 2022. The alpha version of the product already has a large library of crypto games developed by famous game providers such as NetEnt, Play'n GO, Pragmatic Play, and a bonus program specially designed for the crypto community.
At the same time, the company plans to create additional features for casinos so that all components of future products work as openly as possible and use blockchain technologies at their core. This approach will scale the audience, increase user engagement and the level of trust in the casino and iGaming industry. Blockchain makes the entire gameplay and algorithms behind the scenes transparent with transactions and actions of both the player and the casino displayed in a public ledger.
The company also expects to be one of the first companies to create an iGaming casino in the metaverse.
Technologies such as Blockchain, IoT and VR are changing everything in every industry including online gambling. Virtual Reality and VR Headsets have gained a lot of popularity in recent years and represent an innovative addition to the world of online gambling, as well. With VR, one can actually enter into a virtual casino and play all the games without having to travel. Fraud and cheating, which were majorly concerning the users in online gambling, can be addressed using blockchain technology, which allows everyone to see exactly what is going on behind the scenes. For online casinos from other companies, you can have a look at CasinoDeps and read their reviews.
In this context, powered by Web3, the new iteration of the World Wide Web based on blockchain technology, decentralization and token-based economics, as well as on data security, privacy and scalability for end users, the metaverse aims to give access to an immersive digital platform with realistic sensory feedback, and people represented by avatars. Given this, it seems clear that the met averse can have several applications in the igaming world.
According to multiple reports, a metaverse casino run by Decentral Games has already made $7.5m in revenue over its first three months since launch. Decentral Games ICE Poker is a free metaverse poker game where players earn tokens by completing daily challenges and competing against each other on a daily leaderboard. It is based on ICE, the in-game currency that incentivizes player liquidity and enables upgrades of in-game items, and DG the governance token that grants community votes to modify economic incentives and allocate fees that accrue in the Decentral Games treasury. In addition, popular video game company Atari is reportedly building a cryptocurrency casino in the virtual world Decentraland as part of a district called "Vegas City." Another example comes from igaming startup JNS Gaming, which has launched its online casino, called LynxBet, that will primarily target South America.