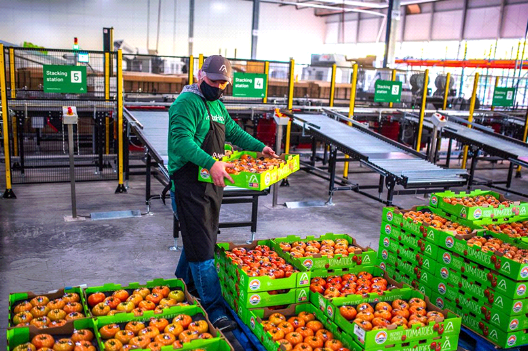 Easy access to healthy food like organically grown, pesticide-free fruits and vegetables is a birthright not enjoyed by all.
As Mother Nature continues to buckle under the pressure of 7.9 billion people globally, food shortage is a chief concern because those billions of mouths require 3.7 billion metric tons of food. For some organic farms, the struggle to keep up with the demand can be too much. But AppHarvest says it has developed a solution to feed the world fruits and vegetables while remaining responsible and ethical in its practices. 
The AgTech company began by opening an indoor 60-acre farm in Kentucky that sustainably grows 30 times more food per acre thanks to world-class technologies that are expected to be supplemented with more artificial intelligence and robotics-led systems for harvesting that the company is developing now.
The company, founded by CEO Jonathan Webb, believes agriculture and climate change-conscious practices don't have to be a paradox.
"We are determined to build a climate-resilient infrastructure," said Webb, "to offer folks a delicious tomato that is sustainably grown right here in Appalachia with 100% rainwater and avoiding harsh chemical pesticides, making it better for both them and the environment."
Already, the four-year-old company has attracted deep-pocketed supporters. Martha Stewart joined AppHarvest's board of directors in 2020. And when the company released its IPO (ticker symbol APPH) in February, it raised an additional $435 million in cash from investors, creating a solid path for more expansion and growth.

How AppHarvest Is Redefining Farming
The idea of farming conjures images of weathered workers harvesting crops and operating machinery every day. But AppHarvest paints a different picture. AppHarvest relies on AI and automated climate controls and is developing robotics to help nurture and harvest their crops.
The company says it hopes the technology will one day resolve widespread supply chain issues.
"Right now, the way we feed ourselves just doesn't work," said Akash Nandi, vice president of deployment operations. "We get over half our food from other countries. What COVID highlighted was that you can't always rely on that. We need more resilience; we need more independence in how we choose to feed ourselves and future generations."
While tomatoes are their only crop, AppHarvest says, soon, more variety will follow.
AppHarvest says its Morehead facility will yield as much as 40 million pounds of tomatoes from 720,000 plants year after year. Two more facilities in Richmond and Berea in Kentucky are currently under construction, with plans to have a network of 9 to 12 facilities by the end of 2025.
The company says as it expands, it will continue to be environmentally friendly by sidestepping agriculture's usual wear and tear on the environment. Its crops rely on recycled rainwater in a closed-loop precision irrigation system, causing a reduction in water usage by up to 90%. The indoor facility is climate-controlled and leverages "integrated pest management," which introduces good bugs to take care of bad ones to avoid the use of pesticides, creating a healthy environment for a natural, bee-friendly ecosystem.
How AppHarvest Leverages Tech to Grow Better
AppHarvest believes that science and technology have woefully neglected agriculture—and they are working to fix that. AppHarvest recently acquired AI farming start-up Root AI, which helps it rely on intelligent robots and AI that uses data to manage its indoor farms.
An estimated 40% of all fruits and vegetables grown in the U.S. end up in a landfill, but AppHarvest wants to leverage its technology to stop such a catastrophic waste. Using the data from each tomato plant and the overall facility, the company is developing systems to better predict the yield, quality, and date of arrival to grocers and markets weeks in advance.
Still, these technologies don't replace the knowledge that farmers have. Instead of completely relying on AI and robotics, AppHarvest is working to integrate these innovations alongside crop care specialists who can focus on more complex tasks. And the company says unlocking the answers of the future requires going back to the source of agricultural knowledge: Indigenous farmers who grew crops in a simpler era.
"I love science," Webb said in a recent podcast. "I love modern technology. I'm a fact-based, data-driven person, but we need to go back and look at a lot of the legacy information we've lost and what some of these people knew. It's this interconnected web; plants are communicating with each other. Nature is communicating with each other; trees know what other trees do when they're in distress. It is phenomenal and Indigenous people who lived thousands of years ago unlocked a lot of that knowledge inside of these plants. We've lost that when we've gone [to] industrial science. There's a balance."