Snapchat's parent company, Snap Inc. has enjoyed a blistering 12-months as continued forays into the world of augmented reality has seen the firm's stock climb more than 200% between September 2020 and September 2021, but as tech giants like Facebook and Apple ready themselves to embrace AR, can Snap really hold off its esteemed rivals?
Snap's integration of augmented reality services for both businesses and consumers alike has been a pioneering insight into the future of commerce, and it's struck a chord with speculative investors who believe that the company has become a trendsetter for the emerging technology.
As we can see from the price history of Snap Inc's stock, the company has arrested a steady decline from the time of its launch to deliver blistering growth following the Covid-19-driven market crash of early 2020.
Today, SNAP is valued at 173.82% of its original listing price and possesses an impressive market cap of $116.4 billion.
Snap's recent market rally comes despite the company's flagship social media network, Snapchat, failing to keep up with its more spritely multimedia rivals like Instagram and TikTok. However, with constant AR innovations delivering fresh opportunities for businesses, we're seeing the development of a social media firm that may be set to shape the future of the industry ahead of its major augmented rivals.
Marketing Through an Augmented Lens
One of the biggest turning points in the growth of Snap was the company's quick change of emphasis towards digital transformation within eCommerce. As the Covid-19 pandemic forced brick and mortar stores to close their doors, Snap worked quickly to deliver augmented reality solutions for businesses to connect with their customers in a more immersive way.
As Maxim Manturov, head of investment research at Freedom Finance Europe notes, "The real and virtual worlds are expected to merge over the next few decades. The metaverse is a term used to describe this phenomenon. Snap is likely to be one of the most successful companies as a result of this trend's development. The company is making significant investments in Snap Cameras and Lenses, which are the primary building blocks for AR features. The platform's development of AR features is expected to significantly contribute to expanding use cases and long-term growth.
For the time being, augmented reality e-commerce is still in its infancy; according to a Bizrate Insights for Insider Intelligence survey, only 10% of US adults use AR for shopping, also 35% are interested. This indicates that there is still room for growth and that Snap can capture a sizable share of the AR market."ù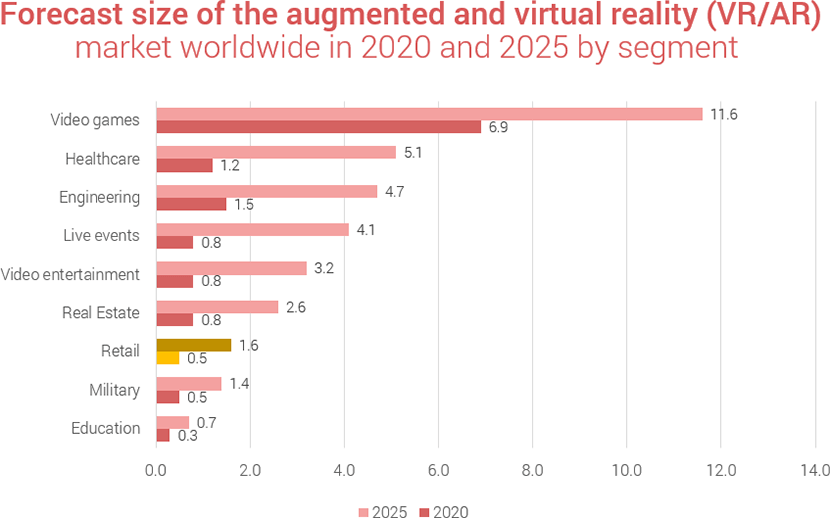 As the data above shows, the reality market is set to grow exponentially over the course of the next five years. Here, we can see that the global AR market for retail will climb to a value of $1.6 billion by the midpoint of the current decade.
To tap into this growth, Snapchat recently introduced Snapchat Trends as a business tool. The feature helps businesses to identify topics that perform well on the platform to enhance audience engagement.
Snapchat has also worked heavily on updating its Scan feature to help make augmented reality far more engaging for users and businesses. By accessing Scan and pointing a camera at an object like a food item or an animal, the app will get to work on identifying AR lenses to support what's in view – paving the way for even more brand engagement.
It's Snap's intention that the new Scan feature becomes a prominent part of the company's integration of services into its upcoming lens products. However, Snap is likely to run into sizable competition when it comes to winning the augmented eyewear market.
Weighing Up The Competition
In September 2021, Facebook released its long-anticipated smart glasses. Created in partnership with fashion retailers Ray-Ban, the glasses have the ability to enable users to take pictures, record videos, listen to music and record video. While the glasses don't currently have augmented reality functionality, Facebook has stated that it plans to incorporate AR into its future eyewear.
If the smart eyewear industry seems a little congested, it's likely to feel gridlocked by the arrival of other major players like Apple, Google and Niantic's latest efforts – all expected to hit the shelves over the coming months and years.
As Facebook was launching its first foray into the smart eyewear industry, Xiaomi unveiled its fully augmented smart wearable concept.
Within the concept, Xiaomi offers augmented push notifications, alerts, live call details and visual map overlays to help users get from A to B. the Chinese tech leaders also offer full call functionality with a built-in microphone and speaker.
The competition for AR prominence may be tough for Snap Inc, but the company's $116 billion market cap is a fraction of that of its key rivals in Facebook, Apple, and Google. Although this means that Snap faces a battle against resourceful competitors to gain AR industry prominence, it also shows that the company has plenty of room for growth should its advanced augmented solutions capture the public imagination in a functional eyewear release.
In terms of emerging technology, the race for market dominance over the next generation of augmented reality eyewear appears to be shaping up as one of the fiercest of the 21st Century. Snap Inc's 2021 performance so far shows that investors are optimistic that the company will come out fighting in its bid to become a market leader in the AR landscape.