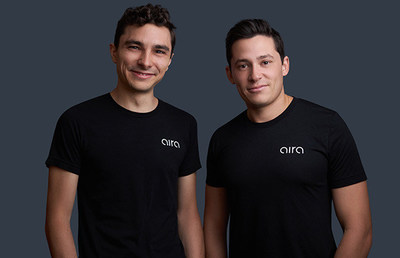 Aira Inc., a Chandler, Ariz.-based wireless charging company, raised $12m in seed funding.
The company intends to use the funds to expand its operational and engineering resources and its business reach into the automotive, enterprise, and hospitality sectors.
Founded in 2017 by Jake Slatnick and Eric Goodchild, Aira is a wireless charging company advancing FreePower®, which is built to work with devices operating on the Qi standard, and compatible with all major Qi devices including those from Apple, Samsung, and Google. Aira is partnering with brands, OEMs, and technology suppliers across several verticals, including consumer electronics, automotive, furniture and hospitality to make it available everywhere.
The company also announced the appointment of Axon [NASDAQ: AXON] Chief Financial Officer Jawad Ahsan to its board of directors. Ahsan brings more than two decades of global financial strategy experience and public company leadership to the board. He currently leads Axon's global finance, corporate strategy, legal and IT organizations and also serves as executive sponsor for the company's consumer-facing business. Prior to Axon, Ahsan served as CFO for SaaS market intelligence firm Market Track, and spent 13 years at General Electric, most notably serving as CFO for its Healthcare electronic health record and enterprise software businesses.
Aira announced a strategic partnership in December 2020 with Motherson Innovations Company Limited, the emerging technologies arm of the Motherson Group [NSE: MOTHERSUMI], a Tier 1 global automotive supplier, who also invested in the company. This joint project was launched to develop, manufacture, and supply automotive-grade FreePower® wireless charging modules into vehicle interiors.
FinSMEs
03/08/2021
SOURCE Aira