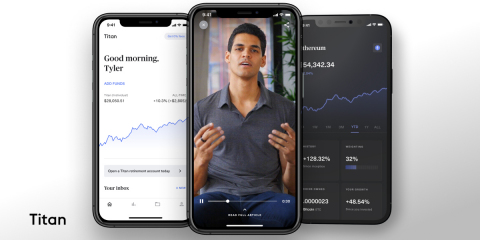 Titan, a New York-based provider of a mobile-first investment platform, raised $58M in Series B funding.
The round was led by Andreessen Horowitz (a16z) with participation from General Catalyst, BoxGroup, and Ashton Kutcher's Sound Ventures, Kevin Durant, Odell Beckham Jr., Jared Leto and Will Smith. In conjunction with the funding, Anish Acharya, a16z General Partner, will be joining Titan's Board.
The company intends to use the funds to build out its underlying platform and suite of investment products, alongside scaling core functional teams.
Co-founded by Co-CEOs Clay Gardner and Joe Percoco, and Maxwell Bernardy, Titan provides a mobile-first investment platform that brings investment management to the everyday investor, offering a fleet of open-access actively-managed strategies. enabling investors to have an investment experience directly with the end investment managers.
The initial strategies on the platform are predominantly in stocks (for instance, its large cap growth strategy called "Flagship" aims to be a modern version of the revered Magellan Fund). But the system is quickly expanding into other asset classes. The company's cryptocurrency offering, which launches soon, will seek to invest in a concentrated basket of crypto assets that can outperform over a long-term time horizon. It is actively-managed by Titan's in-house crypto investing team.
FinSMEs
27/07/2021