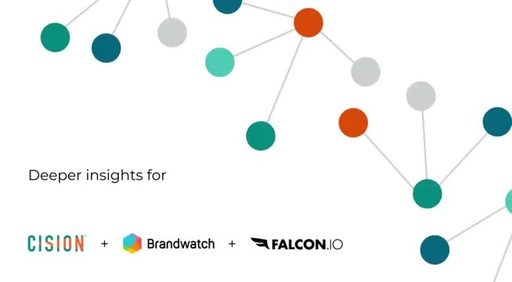 Cision, a Chicago, IL-based global leader in PR, marketing and social media management technology and intelligence, closed on its acquisition of Brandwatch, a Brighton, UK-based digital consumer intelligence company.
The amount of the deal was not disclosed.
Led by Giles Palmer, CEO Brandwatch provides a digital consumer intelligence suite. Its AI-powered deep social listening and content marketing analytics products help over 2,000 of the world's most admired brands and agencies make insightful, data-driven decisions. Brandwatch includes leading content marketing platform BuzzSumo in its portfolio. Brandwatch has 10 offices around the world.
The deal combines Cision's media intelligence capabilities with Brandwatch's AI and machine learning technology and deep social listening tools. A new embedded Brandwatch app on Cision's platforms and enhanced social media analysis across its offerings has also been launched.
As the deal closes, Cision is also combining Brandwatch and Falcon.io, a Cision company known for its social media management capabilities. The integrated social media business will employ 1,000 people. 
The Brandwatch embedded application will be included in the Falcon.io social media marketing suite and in the Cision Communications Cloud. With instant access to real-time and historical conversations online, the app makes it easy for organizations to stay on top of what is being said about their brand, products, industry and competitors and engage their target audience with insights from data that is often difficult to track.
Led by Abel Cark, CEO, Cision is a global leader in PR, marketing and social media management technology and intelligence, which allows brands and organizations to identify, connect and engage with customers and stakeholders to drive business results. It operates PR Newswire, a network of over 1.1 billion influencers, in-depth monitoring, analytics, and Falcon.io and Brandwatch social media platforms.
FinSMEs
05/06/2021