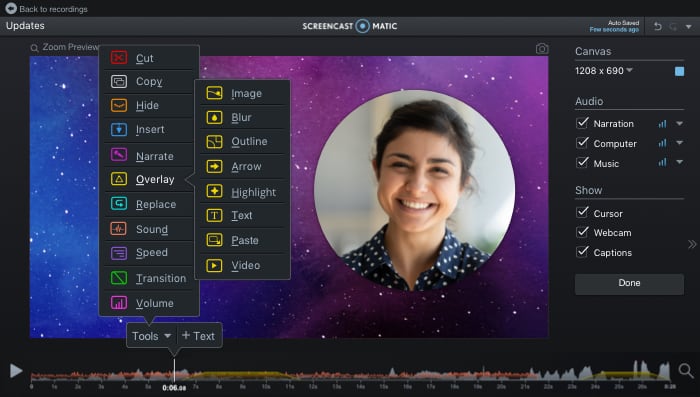 If you don't have the time to install an entirely new program but you'd like to do some basic video editing, an online video editor would probably serve you best.
These types of video editors are typically robust and can be used on a wide range of systems, even if you don't reach the minimum requirements for full-size video editors.
In today's guide, we're going to discuss what are easily five of the best online video editors that are currently available. All of these programs give you a wide range of tools to choose from, and many of them are integrated with social media like Facebook and Instagram so you can quickly share your creation.
FlexClip Video Maker
One of the things we like most about FlexClip is that it comes included with a library of photos and footage that you can use royalty-free to create your videos. If you've ever felt like it's a pain to access stock footage and integrate it into your clips, then you'll likely fall in love with FlexClip.
Beyond giving you access to this library of content, FlexClip is simple and easy to use, and it's also free, at least at first. If you find that you like FlexClip and you'd like to get some additional features out of it, you can sign up for the Basic, Plus, or Business package, depending on your needs.
If you want to upload your own videos and content to FlexClip, all you'll have to do is drag and drop them over the browser. FlexClip also offers various preset aspect ratios that will make it easier for you to upload your work on social media sites including Facebook, Instagram, and Youtube.
Wideo Video Editing Software
If you want to edit together videos using templates, slides, and plenty of animations, the Wideo will probably be your best choice. While the name may be a little silly, there's nothing silly about the stunning videos that you can create with this online video editing program.
Unfortunately, to access Wideo's templates, you'll need to pay. Wideo offers a wide range of plans that go from $79 per month at most and $19 per month at the lowest. If you want to get a feel of what Wideo can do for you, this online video editing program also offers a completely free trial for seven days.
You can also upload your own audio and music to the video editor so you can add a bit of spice to your videos without relying on a single form of media. Once you have your sounds and templates lined up, this video editing program will allow you to crop, trim, and otherwise customize your video.
ClipChamp Video Editor
ClipChamp is a popular video editor that you can find online. This is probably one of the best free options at your disposal, as it comes loaded with features that many video creators will appreciate. Keep in mind that you'll have to sign in before you can use this free video editor, but you can also use your Facebook account to do so.
If you're starting off for free, you'll only be able to export your project at 480p, so keep that in mind. One of the advantages of ClipChamp over other free video editors is that it allows you to download your videos without a watermark, even if you haven't paid for the service.
For those of you just getting your start editing videos, you'll likely appreciate the included guide that ClipChamp's developers have included. This will guide you through the basic features of the software and will make it easier to start creating videos and using all of the tools at your disposal, including their template system.
WeVideo Online Video Editor
The next online video editor we'll be taking a look at is WeVideo, which is not to be confused with Wideo. When you edit videos using WeVideo, you'll have access to trim, drag, and crop features, as you'd expect from any other video editor, but it also comes included with over a million stock images.
While you can start using this powerful video editor for free within minutes of opening up the webpage, you'll have to pay to access some of the creative professional features. Some of the extra tools you'll have access to include slow-motion video, greenscreen features, and even voiceover.
Once you pay for this video edit software, you also won't have to worry about a watermark being overlaid on any of the videos you create. WeVideo is also integrated with other services, allowing you to easily upload your videos to the cloud and your social network of choice.
Even if you intend to use this online video editing software for free, you'll have to sign up for it, so keep that in mind.