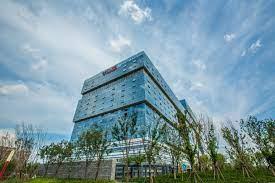 The promising numbers JD Inc. posted in the second quarter of 2020 proved to be an indicator for strong performance in the rest of the year, as the company posted RMB224.3 billion (US$134.4 billion) for the fourth quarter of 2020, an increase of 31.4% from the fourth quarter of 2019.
Like many ecommerce companies, JD experienced explosive growth as a result of the COVID-19 pandemic. Service revenue alone for the full year 2020 comprised RMB93.9 billion ($14.4 billion USD), a 42% increase over 2019 results for this segment. JD Inc. recorded RMB 745.8 billion ($114.3 billion USD) in net revenue for the entire year, representing a 29% increase from the prior year's results. With millions of organizations needing to pivot to digital storefronts or take advantage of the downtime from the pandemic to upgrade their infrastructure, JD posted RMB32.1 billion ($4.9 billion USD) in service revenue in the fourth quarter of 2020, representing a 53.2% increase from the same fiscal quarter in 2019.
Activity from Jingxi Business Group
While the pandemic accounted for JD's revenue increases in multiple sectors, there were also several key business activities attributing to their massive success and financial results in 2020.
The formation of the Jingxi Business Group in 2020 was purposely for serving JD's small business clients in smaller cities throughout China. This group consolidated three unique business operations: the social ecommerce platform Jingxi, the Jingxitong convenience store group (also known as Xintonglu, then JD New Markets prior to rebranding) and Jingxi Pinpin, a community group purchase organization focusing on small businesses and emerging companies seeking investors and potential growth.
By consolidating these three operations into a unified group, the Jingxi Business Group was able to create a centralized supply chain for the lower tier market and both diversify JD's investment risk and provide funding to small, local businesses. In 2020, JD Inc. invested in Xingsheng Preference Electronic Business Limited, a Hunan province-based community group purchase e-commerce platform, and Hong Kong based China Dili Group, a wholesale produce market operator. With the Jingxi Business Group's syngeries and investments, JD's reach is increased in other Asian countries as well as further inland in China and present more opportunities for future growth.
With JD Logistics now owning over 900 warehouses throughout China as of the end of 2020– a 200% increase from 2019– the company will both maintain its position as the nation's largest retailer and soon as the nation's leading logistics and supply chain management solution with frequently evolving technologies at its disposal.
JD Property
In keeping with JD Inc.'s diversification strategy and strengthening their position as a logistics powerhouse, the JD Property division launched its first logistics properties development fund in the fourth quarter of 2020 with RMB3 billion ($457 million USD) of assets under management. The company was confident in this decision based on the prior success of their two logistics properties core funds.
Key investors in the fund include the Singapore sovereign wealth fund and Abu Dhabi based Mubadala Investment Company. Combined, the core funds and logistics development fund have exceeded RMB19 billion ($2.89 billion USD).
Richard Liu on Learning from Failure and the Adapting in the SARS Era
Liu Qiangdong, known as Richard Liu in the western world, is the visionary CEO of JD Inc. While the company is now known as China's largest retailer and is making rapid, sustainable growth in other sectors like logistics and healthcare, JD Inc. started small and the company's massive growth was the result of Liu learning from failure– and how to weather uncertain storms like a pandemic, a situation he similarly weathered as an entrepreneur nearly 20 years ago.
From his humble beginnings as a letter writer for a small company that couldn't afford a photocopier while he was a sociology student at the People's University in Beijing, Liu taught himself how to code and realized that computer engineering is where the future was heading. As China was making a shift towards a capitalist economy, it presented both welcome and uncomfortable changes and a multitude of opportunities for entrepreneurship.
Liu did not initially go into retail or technology, but he started in a familiar territory: school. He opened a restaurant near his university while still a student, after saving a significant sum of money by being one of very few computer engineers for hire in Beijing, to the point he was able to buy his parents a new home. The restaurant was bankrupt in less than a year due to Liu's lack of managerial skills, but he finished his degree then sought an EMBA from the China Europe International Business School while working as a computer manager for Japan Life.
This time, Liu returned to his calling of entrepreneurship and rented a tiny booth in a tech bazaar in Zhongguancun. He differentiated himself from the other merchants by refusing to sell counterfeit goods, offering transparent pricing with no haggling, and providing receipts to customers. The stall grew to a brick-and-mortar shop within five years as he gained a stellar reputation as an electronics seller. One shop turned into several.
Storefronts and bazaars then suffered as China was shaken by the SARS epidemic and streets emptied as people sheltered in place. Liu closed his doors, but had the remaining staff turn to the early Internet by posting products on online bulletin builds. He recognized an opportunity for ecommerce infrastructure to be built as the SARS epidemic ended, and not all small business owners were able to adapt. He wound up closing all of his retail stores and turned to exclusively online sales.
The fastest computer left in the lot wound up becoming JD.com's first server, which he coded himself. By 2007, Liu focused on building an unsurpassed logistics network while competitors were still figuring out how to pivot to online sales as Internet culture grew and online shopping became more common. JD.com became a household name in ecommerce and logistics in 2014 and the company continues to grow. Liu's business leadership serves as an example of persistence and quick adaptation.