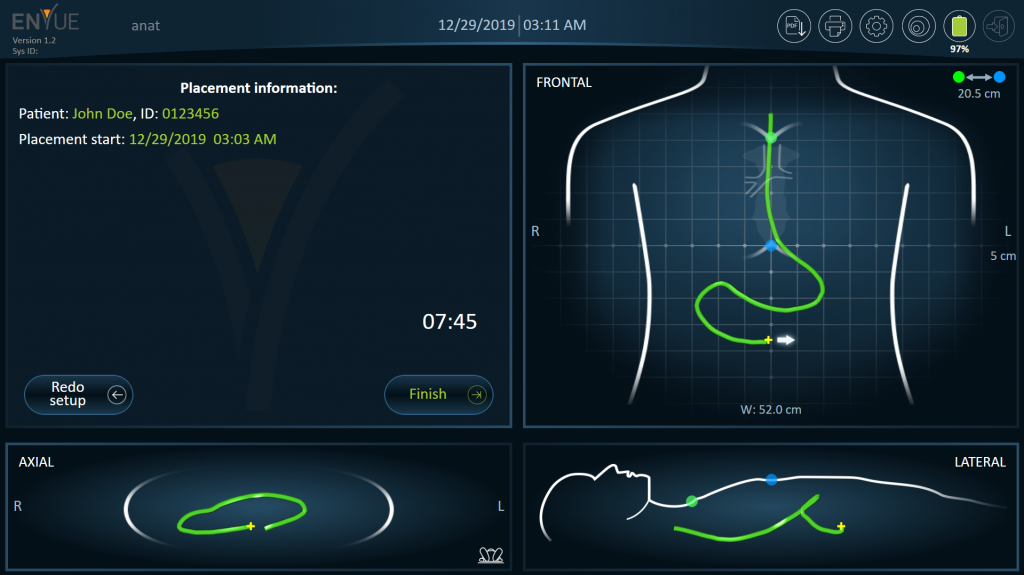 ENvizion, a Tel Aviv, Israel-based FDA 510(k) cleared leader in enteral feeding placement navigation technology, raised $18m in funding.
Backers included private medtech backers, family offices, and the Technion Venture Capital fund.
Founded 2013, and led by President & CEO Doron Besser, MD., ENvizion Medical is a medical device company with U.S. distribution headquarters in Minneapolis.
Its navigation device, "ENVue®," harnesses electromagnetic mapping to guide medical-support staff in placing the tube from the nasal cavity down the esophagus, and all the way through to the small intestine, the anatomical location where nutrients are absorbed by the body. The ENVue device provides guidance through a number of technical mechanisms:
Patient body mapping: ENVue creates an accurate map of the patient's body by generating an electromagnetic field that connects the device's computer and the tube tip. The tube tip's location inside the patient remains highly accurate despite any movement by the patients during placement.
Multi-faceted vision: The ENVue device's screen shows an axial, frontal, and lateral view of the patient's body, so as to indicate the depth and height as the tube moves through the digestive system. This ensures that from three different angles, the support-staff member can ensure the tube is not in the trachea, and always in the digestive tract.
Directional guidance: The device screen guides the staff member placing the tube with an arrow that signals in white when the tube is fed in the correct tract, and red when placed in a direction that may potentially be harmful to the patient.
The company also announced its agreement with one of the largest private hospital networks in the U.S., with more than one hundred hospitals, to provide ENvizion's feeding tube placement navigation devices nationwide.