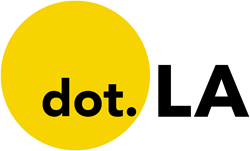 dot.LA, a news and events company dedicated to covering L.A.'s startup and tech ecosystem, closed a $4m seed funding round.
Backers included:
venture capital firms and their investing partners at: 3L, Act One, Anthos, CAVU, Comcast Ventures, Crosscut, Greycroft, Hawke Media Ventures, K5, March Capital, Maveron, m13, Mucker, NFX, Pelion, Thrive Capital, Torch Capital, Troy Capital, Upfront Ventures, Watertower Ventures and Waverley Capital.
Companies such as GeekWire, Jam City, the Los Angeles Dodgers, Perkins Coie, Safire Partners, and Snap, Inc.
Executives including David Bonderman (TPG), Adam Friedman (CAA), Brad Gerstner (Altimeter), Rick Hess (Evolution Media), Gabe Greenbaum (Pritzker), Todd Lemkin (Canyon Partners), Navid Mahmoodzadegan (Moelis), Mark Mullen (Bonfire), Chris Ovitz (Future Positive), Danny Passman (Gang, Tyre, Ramer, Brown & Passman), Karl Peterson (TPG), Brad Ramberg (Beachbody, Idealab), Avery Rosin (Lead Edge), Elie Seidman (Tinder), Sukhinder Singh (Stubhub), Jeff Stibel (Bryant Stibel), Brendan Wallace (Fifth Wall), Brian Weinstein (Bad Robot), Jeff Wilke (Amazon), Josh Yguado (Jam City), and Jeremy Zimmer (UTA).
Entrepreneurs including Austin Allison (dotloop), Allison Checchi (Atom Tickets), Dick Costolo (Twitter), Michael Dubin (Dollar Shave Club), Rand Fishkin (SparkToro), Brad Inman (Inman News), Ross Hoffman (Headspace, Twitter), Todd Jackson (Dropbox), Josh Jones (HMC INQ), Jeff Kearl (Stance, SkullCandy), Brian Lee (BAM Ventures), Paul Levine (Sapphire Ventures), Eddy Lu (GOAT), Adam Miller (Cornerstone OnDemand), Jane Park (Tokki, Julep), Sean Rad (Tinder), JJ Ramberg (NBC News, Goodshop, Goodpods), Ken Ramberg (JOBTRAK, Goodshop, Goodpods), Keith Richman (Voi), Michael Stoppelman (Yelp), Sam Teller (Tesla, SpaceX), Russell Wilson (Seattle Seahawks) and musician Ciara.
Launching in 2020 and co-founded by tech veteran Spencer Rascoff, its newsroom will report news about new companies, funding rounds and other aspects of the startup ecosystem. The company will also host events dedicated to bringing together the startup community.
At launch, the newsroom will have at least five journalists covering all aspects of L.A.'s startup scene, and is actively hiring several more reporters and editors. Its editor-in-chief is Joe Bel Bruno, who previously held editor positions at The Wall Street Journal, the Los Angeles Times, The Hollywood Reporter and Variety. Other journalists include Tami Abdollah, who most recently covered cybersecurity for the Associated Press; Ben Bergman, who most recently worked for NPR and KPCC; Rachel Uranga, who most recently worked at the Los Angeles Business Journal; and Managing Editor for Digital and Reader Engagement Eric Zassenhaus, who most recently worked at Pacific Standard.
FinSMEs
10/01/2020