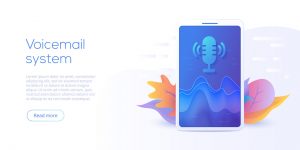 If you have a business, having the basics of communication systems is essential. Your business should have a telephone, mobile phone, social media accounts, voicemail system, and other methods of communication so your customers can connect with you, and vice versa.
But while you may want your business to accommodate customer concerns 24/7, it may be the case that you can't afford to answer all calls immediately. This is where a voicemail can come in handy.
A voicemail is a recording of a message through digital means. When you're away or can't answer the phone immediately, your caller can leave a message, which is known as voicemail. After which, you can retrieve or open the voicemail from its digital box. Especially with voicemail, you can let your business continue to thrive through the following:
1. Improves Business Efficiency
Business operations should continue whether you're in or out of your office. Having a business doesn't mean staying in your office all day long. From time to time, you'll leave your office to attend business meetings, do purchases, and other important matters. For such instances, your clients must have a way to reach you.
Even if you have a staff to manage your office transactions, they will also leave your office premises when it's time to go home. If they're too busy handling business transactions, they might not be able to attend to telephone calls right away.
Businesses that miss a call can potentially lose a buying customer. With voicemail, your business productivity can increase through the following:
– Save Time – Nowadays, voicemail systems include unified messaging. It means that email, fax services, and voicemail are accessible through one device. Instead of checking all three devices for incoming messages, a voicemail system stores all of the messages from each device. So, you just need to open to your mail or app, then you'll see all the messages from all your devices.
– Send Ringless Voicemail – You can receive recorded messages from your clients, and vice versa. A voicemail system has a feature where you can send a ringless voicemail to a lot of voicemail inboxes at the same time. Ringless voicemail are recorded messages that you can use to alert clients of your business offers, or even to simply extend your gratitude. Since it doesn't ring when sent, you won't disturb the receiver.
– Organize Records – Some voicemail systems even have an organizing feature. For instance, it can sort messages according to its source or date. Depending on how you want to set it up, your voicemail system can help you arrange your messages properly.
– Forward Calls – Most voicemail systems allow businesses to access incoming calls from outside their offices. In order not to miss any calls, all incoming calls or messages can go to you or your appointed employee. For instance, if you're on a business trip, the voicemail system can forward calls to your cell phone number. Thus, you can keep working while you're on the road.
2. Screen Calls
In the business world, call screening means assessing the caller's characteristics before answering or making the call. Although you should only screen calls when necessary, a voicemail system can help you screen calls professionally. You will avoid offending your customers when you screen their calls by leaving a voicemail.
Moreover, by using voicemail screening, you can listen to the caller's message. By doing so, you get to decide whether to take the call or simply call them back later. This happens when you're on the road, out of the office, or are having a business meeting.
The voicemail system has a feature where you can see the caller ID using another device connected to the phone. Thus, you'll know whether it's an urgent call or save it for later.
Here are some reasons why voicemail call screening is vital for your business:
– Without interrupting what you're doing, you'll know who the caller is as voicemail call screening has an integrated hands-free audio prompts. Traditionally, you need to answer the phone to know who the caller is. But with a voicemail system, it'll tell you who the caller is even when you're distant from the phone.
– Most voicemail screening features have one-touch options. You can accept, reject, or let the call go to your voicemail.
– Even when you're busy, you'll have the chance to promptly answer a call through the caller ID. Especially when you're waiting for an urgent call like a business proposal acceptance, missing such a call may cause you to lose a potential business partner. This is why the caller ID feature of voicemail call screening will save you from losing a valuable asset.
3. Construct a Professional Response
With the call screening feature for your voicemail, you'll have the chance to construct a proper response. Since voicemail records messages, you'll have time to prepare your answer. Especially when the call is related to an issue, you can assess the best response without offending your customer.
Even for urgent calls, a minute or two can give you time to prepare a solution compared to when you're talking to your customer live. Some might even provide an answer that'll disappoint their clients. These situations can lead to losing customers.
But when you have voicemail, you can save your business as you or your employees can respond appropriately to the caller.
4. Read Recorded Audio Messages
If you want to save money for your business, choose a voicemail system with a visual voicemail feature. This has visual interface that you can use to scroll through messages aside from listening or receiving them.
For most voicemail systems, you can even get a transcription of the voicemails. Thus, you can read your messages wherever you are, and you'll know which one is a priority. Since you don't need to dial a number to get to your recorded messages, you can save a lot of time listening to all the voicemails, and use this time to be productive.
Lastly, with visual voicemail, you can avoid mistakes in transcription. This is crucial when you receive important instructions from clients or business partners. With visual voicemail, you can simply forward the transcribed message to the employee tasked to do the work, thus preventing any situations wherein your employee would misunderstand or misinterpret the instructions received as secondhand information. This way, you get to satisfy your clients or partners, which is vital in making your business thrive.
5. Lessen Expenditures
When you have a voicemail system, you can reduce your business expenses as you won't need additional administrative staff to monitor calls, answer phone calls, and screen out callers.
Since voicemail systems nowadays are sophisticated, they can perform basic administrative tasks related to phone calls. Hence, you won't need to spend more on hiring additional employees. You can use the money to develop your business instead of hiring more people when an automated system can easily do it.
6. Satisfies Customers
Without customers, your business will not thrive. But if you have returning customers, your business will continue to flourish. One of the factors that affect customer retention is how well you treat your customers, which is known as customer service. Even if your products or services are of great quality, customers will more likely never return if they are treated poorly.
Especially with the influence of technological advancements, customers want fast service or feedback. A lot of customers become impatient when no one answers their calls. You wouldn't want to lose potential customers because of unanswered phone calls.
With the features of the voicemail system, you can retain customers through the following:
– Greet your callers through recorded messages. When you enable your voicemail, you won't keep your caller waiting. Also, if you're busy at the moment, the voicemail can guide the caller on the next steps, whether they should leave a message or call another number. However, keep in mind that you should regularly update the recorded message, so your customers will feel that you value them, too. Because they won't hear the same recorded messages throughout the years, they may view your message as a genuine one instead of an excuse not to answer their calls.
– You can also use your voicemail to get customer feedback. With a recorded message, you can integrate what buttons to use to rate your business products or how you respond to their calls. It's an easy tool to make your customers rate your business. This way, you'll know whether you're delivering an excellent service or not. Use it to improve your business.
– Another way to retain customers is to let them know if you're having an issue or upcoming holiday adjustments. For instance, if your staff is having a holiday, let your customers know in advance. Moreover, if you're updating your sites or other facilities, they'll understand any delay or issues that they may encounter on the said dates. Not giving them a heads-up on such matters won't make your customers understand why such things have happened, and they will likely just attribute it to poor customer service.
– Another advantage of having a voicemail system is being able to market new services, products, or promotions. To use this feature wisely, keep your voicemail brief and short. Add these lines at the end of your recorded message. This way, you won't bore your callers as most don't listen to long messages. Especially when your callers are inquiring about your product, business hours, location, and the like, adding your latest promotions will keep them excited. As a result, they'll more likely leave a message or call again.
Conclusion
A voicemail can help your business, especially when it comes to catering to clients. Because customers are the lifeblood of your business, you should satisfy them well. With a voicemail system, you can keep your business operations running smoothly, or entertain your callers even when you're not around the office. If you use your voicemail system wisely, it can even serve as a marketing tool to attract more customers.