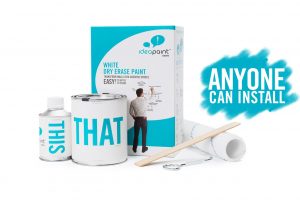 Innovative Chemical Products, an Andover, MA-based specialty chemical manufacturer, acquired IdeaPaint, the creator of the dry erase paint category.
The amount of the deal was not disclosed.
With the acquisition, ICP Group expands ICP Building Solutions Group's portfolio of performance coatings and design-driven interior products.
Founded by John Goscha in 2002 at Babson College in Wellesley, Massachusetts and introduced in 2008, IdeaPaint has invented dry erase coating which transforms any smooth surface into an erasable canvas for dry erase markers.
Since 2008, IdeaPaint has established partnerships with architecture and design firms around the world, expanded distribution to over 45 countries, completed over 200,000 installations, and has the world's largest and most innovative companies as longstanding customers.
The company also produces related products, such as wallcoverings, magnetic coatings, markers and cleaning supplies.
IdeaPaint exists to enable everyone to reach their creative and productive potential. For over a decade, the brand has been expanding its innovative product line that gives people the space they need to conveniently engage with their ideas. This acquisition ensures that IdeaPaint's offerings will keep evolving as the brand continues to bring great products to market for many years to come.
A portfolio company of Audax Private Equity, Innovative Chemical Products provides coatings, adhesives and sealants globally. With operations headquartered in and multiple manufacturing facilities around the world, ICP Group serves multiple end markets, including building materials, specialty construction, industrial, packaging, printing and sports surfaces.
ICP Building Solutions Group (BSG) is a supplier of professional products and solutions for building envelope, cementitious and sports surface needs. Comprising dozens of brands across numerous industries and applications, the Group offers comprehensive portfolios to building professionals all over the globe.
FinSMEs
6/09/2019