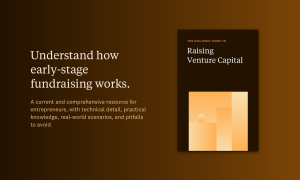 Holloway, a San Francisco, CA-based online publishing company, raised $4.6M in seed funding.
Backers included NEA, The New York Times Co., & South Park Commons.
Led by Andy Sparks, CEO and co-founder, Holloway creates in-depth Guides to important topics in business by distilling the knowledge of industry experts into comprehensive online resources. People can read each guide in a new online reading experience. Guides, each over 200 pages, are popup, ad, and distraction free.
The Holloway Guide to Raising Venture Capital is Holloway's first paid Guide, and is live as of today. Sparks authored the Guide alongside over forty contributors, including Brad Feld (Managing Director at Foundry Group), Darby Wong & Chris Field (co-founders of online legal service Clerky), and Michael Brown (Partner at Fenwick & West, who has worked with companies like Uber, Airbnb, Carta, and Coinbase on their raises).
The Holloway Guide to Technical Recruiting and Hiring, due out in November, is being written by a team of authors including Ozzie Osman (former Head of Product Engineering for Quora), Aditya Agarwal (former CTO of Dropbox), Jennifer Kim (startup advisor to Y Combinator, First Round Capital, and True Ventures), and Aline Lerner (co-founder & CEO of interviewing.io).
People can purchase one year of access to a guide for $100, or pre-order one year of access to a guide that isn't published yet for $75.
FinSMEs
01/08/2019