Among the tech waves having hurt us in the last decade, crowdfunding was on of the most hyped ever. It substantially gave people a chance to get resources to fund thier projects and activities of every kind.
With the hope of revolutionizing financing in any sector, cutting out high street banks and going straight to customers, several (generalistic or sector specific) platforms were launched. Some years later, we can attest that only some of them have been able to survive and succeed.
Among them, Kickstarter, a platform that aims to help bring creative projects, including tech products, films, music, art, theater, games, comics, design, photography, and more to life, celebrated its 10-year anniversary earlier in 2019.
The NYC based company didn't invent crowdfunding but it helped take the concept into the mainstream. Since then, thousands of tech enthusiasts, geeks, entrepreneurs, artists, and inventors have created campaigns to bring their ideas to life, with people pre-ordering products by way of financing, as well as receiving other rewards depending on how much money they pledge.
Does it look easy? Each project is independently created and curated by the person behind it. Campagners have complete control and responsibility over their projects, spend time building their project pages, shooting videos, select what rewards to offer backers, set their funding goal and deadline. When ready, they launch their project and share it with their community. If people like the project, they can pledge money to make it a reality. If the project succeeds in reaching its funding goal, all backers' credit cards are charged when time expires. If the project falls short, no one is charged.
Maybe, now, it does not look so easy. Instead, it can be challenging. Think about that just over 36% of the projects campaigned on Kickstarter have met their target amount. In addition, even when projects exceed their targets, there's no guarantee that the finished product will be delivered to backers. Anyways, this hasn't stopped people from pledging $4.2 billion (and counting) into projects over the last decade.
In this context, we have extrapolated four Kickstarter campaigns which not only gained funds from the general public but also made the history of the platform, in one way or another, based on what they promised and what they reached, actually.
THE VR HOPE
The most lucrative product funded through Kickstarter was Oculus Rift, a virtual reality (VR) system with the potential to transport users to a hyperrealistic 3D world.
Within four hours of launching a campaign on August 1st 2012, the project reached his $250k target. By the end of the month-long financing campaign, Oculus Rift had received more than $2.4m in total, almost 1,000% over its target.
While not the most financed crowdfunding project ever, Facebook's $2bn acquisition just two years later meant it was among the most lucrative ones.
While the financial resources helped the first generation of Oculus Rift become commercially available in 2016, under Facebook, the company has remained active and has been always involved in advancing its products. Coming to our days, the same Facebook has been trying to accelerate the popularity of VR and started shipping the Oculus Quest and the Oculus Rift S in May at $399.
Oculus Quest is a first all-in-one gaming system for virtual reality.
Oculus Rift S— is a new VR headset that combines insight tracking technology with PC. Built on the Rift platform, Rift S, which gives gamers and tech enthusiasts access to VR immersive content, replaces the original Rift with an upgrade to a higher resolution display, improved optics, and a feature called Passthrough+, which gives people a glimpse of the real world around them without taking off the headset.
SMART PRODUCT GONE BAD
Like smart glasses, even smartwatches represented an enormous hype wave with a big hope to disrupt the traditional markets. A lot of noise was made around smartwatch maker Pebble, which raised $10,266,845 in 2012. Later, a venture capital round was raised (in 2013) and an open Pebble software development kit (SDK) released.
A second campaign – launched in 2015 – backing the second-generation of watches, namely Pebble Time, broke records again, achieving its funding goal of $500k in just 17 minutes. It went on to receive $1 million in less than 1 hour.
The end was sad. After turning down $740m from watchmaker Citizen in 2015, then $70m by Intel in 2016, Pebble was acquired by Fitbit for $23m in December 2016. The technology was incorporated into Fitbit, but the majority of the company's employees were laid off including CEO Eric Migicovsky. Pebble watches were phased out and discontinued in 2018.
PLAY? PLEASE, WAIT…
2.3m people pledged money to finance Star Citizen, Cloud Imperium Games' "epic space adventure". After launching in 2012, the game attracted $2.1m in funding from over 34,000 backers. Seven years on, an additional $46m in funding has been privately invested while nearly $180m was raised via crowdfunding on the game's own website. However, the finished game has not be launched, yet, with the deadline postponed several times.
Although there have been small parts of the game released to backers, as well as promises to reward them within the game for their contributions, the delays have riled many people. Cloud Imperium has since tightened its crowdfunding refund policy to make it harder for disappointed backers to reclaim their money.
Latest news indicate that like Star Citizen, Squadron 42 has no official release date yet, however it can be released before Star Citizen. Some news reports say Summer 2020 can be the right time to launch it. We hope so.
SWEET KITTY
Exploding Kittens, a strategic kitty-powered version of Russian Roulette, launched a campaign in 2015 with a funding goal of $10k and raised nearly $8.8m, thanks to an engaged community of over 219,000 backers, who were invited to complete tasks, such as posting a photo of ten people wearing cat ears, in exchange for additional rewards, and to share ideas to improve the game.
The company is now involved in expanding its IP with a live gaming convention, which is expected to take place in 2020.
Its new projects include:
– Throw Throw Burrito
– You've Got Crabs
– Bears vs Babies
– Kitty Convict Project
– The Oatmeal
Below, have a look at the infographics below to summarize the campaigns which have made history on Kickstarter.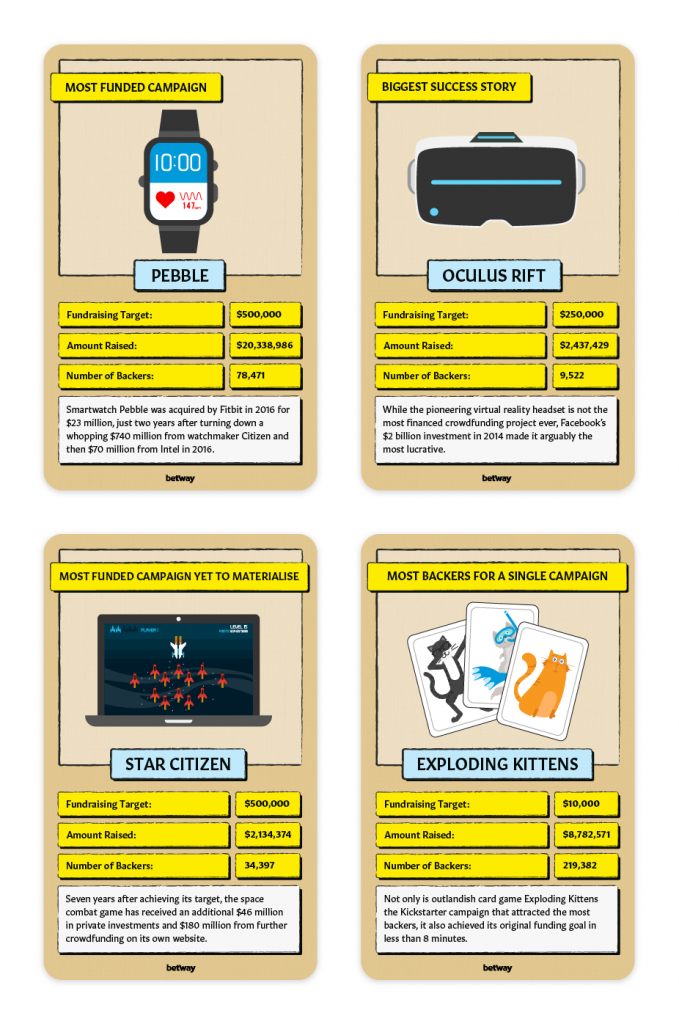 Anyways, not only tech has dominated the Kickstarter scene. Highlights also include thirteen films nominated for Academy Awards with one of them, Inocente, which won the Oscar in 2013. In addition, music albums have topped Billboard charts, and won Grammy Awards. Finally, artworks have been exhibited at MoMA, the Whitney Biennial, the Kennedy Center, the Walker Art Center, the Smithsonian, and the American Folk Art Museum, comics nominated for Eisner Awards, and dances performed by the Martha Graham Dance Company, just to name a few of them.