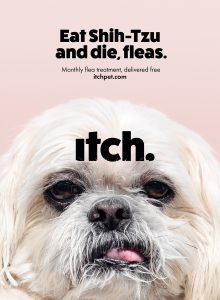 ITCH, a London, UK-based pet wellbeing brand, raised £5m in funding.
Backers included Seedcamp, Nigel Wray and Cox's YYX Capital amongst others.
A further injection of £10m in planned for Q4 2019 to support the brand roll out to the US in Q1 2020.
Co-founded by direct-to-consumer entrepreneur James Cox [co-founder of sleep tech firm Simba], pet supplies retailers Jonny and Adam Gould [co-founders Monster Pet Supplies] and marketer Charlotte Harper [former CMO of Zoopla and UK MD Match.com], ITCH is initially launching with a flea care subscription service.
Developed in collaboration with veterinary experts, the company's tailored monthly flea subscription service aims to make preventing infestation and treating pets quicker and more convenient for owners than buying over the counter.
ITCH will also offer range extensions into the wider pet care market with innovative personalised calming, skin, joint and dental products. There are also plans to use curated and user generated content to create an online platform and community, in collaboration with its team of veterinary experts, designed to answer the wellbeing questions pet owners face on a daily basis.
From July 2019, pet owners will receive tailored flea treatment kits for their pets, through their letter box. Via the app, they will be sent a reminder when it's time to administer treatment. The right dose, at the right time, delivered direct to their door.
FinSMEs
08/07/2019